Greetings and welcome to the vibrant city of Cuenca. Here, we pay tribute to Saint Sebastian, patron saint of sport and plague, with a stunning church and plaza in the heart of the city. On the south side of the plaza sits the white-walled home of Cuenca's Museum of Modern Art, a haven for contemporary art lovers.
In this article, I'll delve into the museum's fascinating history and explore the thought-provoking works that adorn its walls and what they mean to me. But the journey doesn't end there – we'll also discover how the museum relies on support to continue its rich creative tradition. So come on in and join us as we take a tour of the Museum of Modern Art and all it has to offer!
Many Purposes Over Time
The building was constructed in 1876 and has served as a convent, hospital, alcoholic treatment center (the Temperance House), prison, school, and foundation for impoverished women. Such a varied background led to its remodeling between 1976 and 1981 for consideration as an art museum.
Conceived and Founded by Local Artists
In the late 70s, Hernán Crespo, Director of Ecuador's Central Bank Museum, and painter Luis Crespo Ordoñez saw the need for a museum of modern and contemporary art. They decided they could breathe new life into this old building, and the idea of a Museum Modern Art was born in Cuenca.
Eudoxia Estrella founded the Cuenca International Art Bienal in 1987. The Bienal Internacional de Cuenca promotes contemporary art in the region and has grown into one of the largest such exhibitions in Latin America.
Estrella, who had taught watercolor painting to Cuenca children for years felt watercolors were an underrepresented medium in the Bienal and worked to include them in the yearly exhibitions.
Living alongside St. Sebastian Plaza, Estrella convinced the city to convert the old Temperance Hall into the Museum of Modern Art, and she became its first director, continuing until 2010. Remodeling took place over three years, flowering into Cuenca's Museum of Modern Art. The current Director, Bernardo Vega, follows in the footsteps of Estrella as a long-term art teacher in Cuenca schools and the community. Today, Cuenca can be proud to have this renovated building housing a new cultural expression of both the past and the future.
What's Inside
The Museum houses 608 modern and contemporary works of art which include both permanent and rotating exhibits. Follow the yellow and blue color-coded surfaces around the courtyards to the The Museum houses 608 modern and contemporary works of art which include both permanent and rotating exhibits. Follow the yellow and blue color-coded surfaces around the courtyards to the permanent and temporary collections respectively. These displays showcase traditional paintings, innovative works on canvas and other surfaces, mobile art pieces, creative structures, photography, sculptures, and an interactive space. These eclectic works have been created by artists from Cuenca and all over  Ecuador and from other South American countries. The Museum does not sell any of its permanent collection, but some of the artists displaying in the temporary collection may entertain an offer. Check at the front desk.
Luis Crespo Ordoñez
The most prominent Ecuadorian artist on display is Luis Crespo Ordoñez,
best known for his still lifes and floral vases. Born in Paris in 1904 to Ecuadorian parents, he was the nephew of Remigio Crespo Toral whose Museum resides today on Calle Larga in Cuenca. In Ecuador, he began studying at the Cuenca School of Fine Arts, progressed quickly, and was awarded the School's Gold Medal four years later as well as a municipal grant to study in Quito.
His talent was further recognized with a government grant to study at the École des Beaux-Arts in Paris, where he also studied at the Grande Chaumière, an Academy atop Montparnasse where Modigliani and other famous artists of the time taught. After two years, Ordoñez moved to Madrid's San Fernando School of Arts learning the craft of classical art. He came to understand the clashes between ancient, modern, figurative, and abstract art were all artificial.
Returning to his roots in Ecuador, Ordoñez was awarded First Prize at the Mariano Aguilera Hall, Quito, in 1937. He remained in Quito for 2 years but left to spend the next 37 years in the United States, painting in New York and Washington. After so many years away, Ordoñez returned to Madrid where his paintings were reminiscent of his earlier life in Ecuador. These works resulted in exhibitions in many Latin American countries. He died in Madrid in 2004.
Ordoñez Works on Display
The Museum of Modern Art has 26 of  Ordoñez' pieces in its permanent collection. Currently on display, radiating its red colors in a dark room, is a large painting which jumps out at you when you enter the gallery. Even more dramatic is an interactive display with material representations of this work shining in the dark. Look for the gallery with a black curtain hanging in its doorway; pull the curtain aside, walk in, and become overwhelmed. This is probably the most dramatic, astounding, not-to-be missed exhibit in the museum.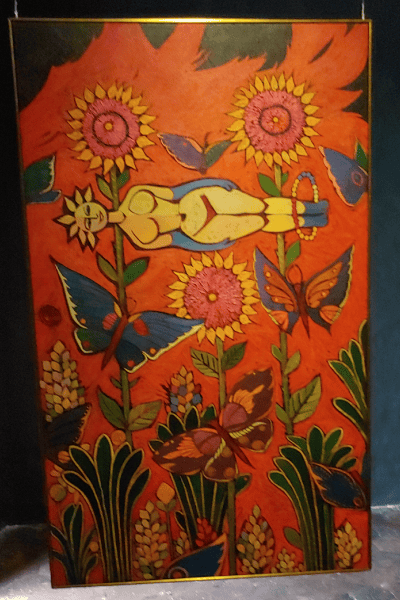 Visiting MOMA
Why should you choose to visit this museum? Visiting any museum is more than  strolling through and glancing at the artwork. Stop, let the artwork speak to you; try to get inside the piece and allow the artist to enter into you. Live vicariously for the moment with the artist. Since you cannot handle the works, allow the works to reach out and touch you. It may give you joy, appreciation, a new understanding. Any work of art has a message to convey and it may bring history alive, be a view of culture – yours or someone else's – even an educational experience. Allow yourself to get immersed in the visual world.
There are many ways to get the most out of your visit. You may have your own favorite way; if not, try this method. Do a quick walk-through of the building to get acquainted with its layout. Trust your eyes to spot some exhibits you would like to come back to view more closely. When you have an overall sense of the galleries, return to those you most want to visit. Walk slowly and spend time with individual works.
Touring a museum can be as tiring as slow walking anywhere. There is such a thing as museum fatigue. To prevent this, find a bench and relax for some moments or visit the lounge or cafe area and let your mind clear itself. Relaxing in the sculpture garden would be an excellent alternative. Later, return to the galleries which interest you the most. If you have the luxury of time, you may wish to schedule two visits to the museum instead of trying to visit all of it on one day or one block of time. After all, you will get out of the experience what you put into it.
Inside Moma
It's time to go inside. You will first enter a lofty foyer and a guard will greet you and invite you to walk into the reception area. Stop at the information desk and ask any questions you have. I asked if I could take pictures in the galleries and was told yes. I asked if anyone on the staff spoke English and the answer was no (actually the Director speaks commendable English, but he's not readily available). Go ahead and sign the guest book so they can document the number of visitors and where they come front. Now the real fun begins.
Step into the first long atrium. This museum is unlike any I have visited, as it has numerous small rooms holding individual displays. Remember how this building was used in the past: a convent and a hospital. You will easily sense how the nuns lived or the patients rested. All of these rooms circle a long, narrow courtyard where the green grass is a relief after walking the city's streets. Feel the sunshine streaming in from above giving a light open airy sense in contrast to the rooms at the sides. Here you will spot your first piece of sculpture.
Duck into the galleries to find one or more works of art waiting for you. Some small rooms have had a wall or walls removed to open the space for larger or multiple artworks. The paintings of bright reds and yellows stand out in the otherwise darkened spaces and bring the room to life. Besides paintings, you will find more sculpture, photography, and objects d'art. One exhibit of posts lined up between two large mirrors reminded me of the donation posts in front of the Museum of the Arts of Fire, Las Herrerías, at the other end of town.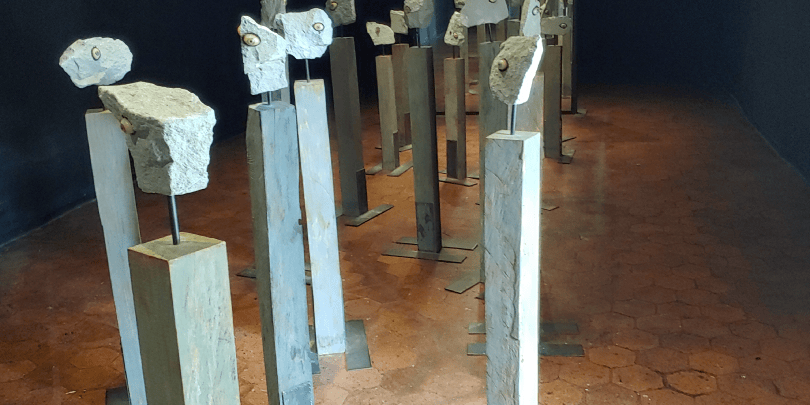 The Avant Gard
One experimental exhibit worth seeing is a room filled with hanging clear globes suspended from the ceiling. at various heights These are offset with patches of red material. Move about in the room as best you can to see how these globes reflect each other and cast reflections, It's as if they are floating.
On the far side of this atrium is a narrow keyhole passage into a similar second atrium of rooms on one side. Opposite is a stone wall hosting a series of stone masks – a clever use of an otherwise blank wall. This atrium is similar to the first, with a series of small galleries holding various treasures. There are some welcoming benches spaced along the exhibit rooms, offering you a chance to rest your tired feet.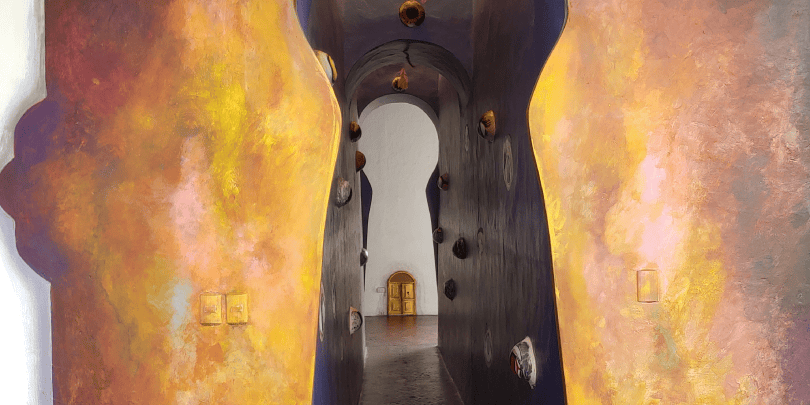 Beyond this room is another open space with a moat running down its center, with plantings of succulents on either side. It is a space ripe for more art.
At the close end of the first atrium, hallways proceed past a lecture room which was the chapel for the nuns. Today, it houses a grand piano and is used for classical music performances, music lessons, film presentations, and symposiums. Follow the hallway around to another open space set up with tables and chairs, seeming to be a snack area, though not functioning as such. It is a great space to refresh and converse with others about your experiences with the art.
This museum is fully accessible for you if you have any mobility problems. All of these spaces are on one floor and no steps rise up within the viewing areas. This barrier-free museum certainly makes viewing easy.
Help Is Needed
Museums struggle in a world which is constantly changing. In this day of content-driven expressions, we are bombarded with many choices to make. Visuals take precedence over words, and museums struggle to keep their ledgers in the black, find sources of funding, and meet the ever-changing expectations of the visitors. This museum is no exception.
The needs of the Museum are great, and volunteers are needed. The Museum receives some money from the city but far less than is needed to nurture the collection and sustain the building. A webmaster who can create and maintain a website is greatly needed as the Museum has no website. The lack of a website is a great hinderance to presenting its mission of preserving Ecuadorian art.
In-kind donations are sought of restoration and art materials to maintain the collection and teach art to others, especially children. Artists who can tackle restoration projects and a chief restorer are high on the list of needs. Volunteer gardeners to maintain the grounds and gifts of plants to enhance these grounds would be greatly appreciated. You can help keep this institution alive.
As repositories of art and culture and education, museums in our community need to remain relevant and exciting places to visit. They need our support. The Museum of Modern Art is one of these, and its doors are open to welcome you. Plan a visit today.
Wrapping Up
So, now you have some background on its rich history and enough detail on the works inside to motivate you to take a tour. I promise you will find it one of the more intriguing and evocative museum experiences anywhere. One thing you will note is how the local artists on display each project their unique and engaging point of view so the variety of work will grab and hold your eye and interest.
And after you visit, you might feel compelled to assist the museum through volunteering or financial and in kind donations. The museum is worthy of a website that shares its story with the world and if building websites is something you would like to do for the museum, your contribution would go a long way to helping tell its fascinating story to the world.
Fast Facts
Location: Mariscal Sucre 15-27 y Coronel Talbot
Hours: 9:00 am – 4:30 pm weekdays, Saturdays & Sundays 9:00 am – 2:00 pm
Phone: +593 07-413-4900
Email:

[email protected]
Nearby Restaurants
El Jardín $ Latin American
Villarosa Restaurant $ Eclectic
El Pedregal Azteca $ Mexican
Café Eucalyptus $ Eclectic
Tienda Cafe $ Fast food
Casa Azul Galleria Cafe $$ Ecuadorian
Jodoco Belgian Bistro $$ Belgian
Osaka Ramen Restaurant $$ Japanese
Cafe San Sebas $ North American
Giro Pizza $ Italian