One of the main reasons expats decide to move to Ecuador is the lower cost of living. Monthly expenses, including food costs, are generally significantly less in Ecuador than in the United States.
As of February 2022, the National Institute of Statistics and Census (INEC) determined the Canasta Familiar Basica (CFB) for Cuenca was $753. This figure is the cost-of-living estimate by the Ecuadorian government. That means a family of 4 would have to spend $753 in Cuenca to meet all their basic needs. Of this, $234 was calculated for food expenditures.
Of course, prices of food vary depending on where you shop, the products purchased & the quality. Cuenca has a variety of grocery stores and markets to complete your weekly shopping, from tiny corner shops to large, expat-friendly supermarkets.
Let's look at what grocery shopping options are available in Cuenca and compare their prices.
City Markets
Where: Feria Libre, 10 de Agosto, 9 de Octobre, 12 de Abril, 3 de Noviembre, Control Sur
Many Ecuadorian families shop at city markets. These markets offer mostly unprocessed foods for sale by individual vendors. Markets are open all week long, but the busiest shopping days are Wednesday, Saturday, and Sunday. Many items are sold by weight, but produce is also found in prepackaged amounts for $1. Better prices can be found on seasonal items.
Shoppers can look for bigger quantities of produce or fresher choices. Buying meat at the market can be concerning because the stands lack refrigeration; however, vendors are careful to rotate stock. A bonus is that you can select the exact cut of meat you desire.
What to consider when shopping at the market:
Be aware that pre-packaged fruits and vegetables can hide imperfections. The slightly lower quality of the product may account for the greater quantity.
Scales are checked by government workers infrequently. Unintentional or intentional scale discrepancies have been found. This can sometimes work in your favor.
Watch your belongings – especially during holidays or busy shopping days. Dress casually and don't bring valuables.
Bring shopping bags and small bills.
Some newer expats find the mixture of smells to be off-putting.
Don't forget your yapa! Extras or incentives, also known as yapas, can be given to customers that have an established relationship with the vendor. This is where the Yapa in YapaTree comes from. Don't be afraid to ask for a little yapa next time.
Supermaxi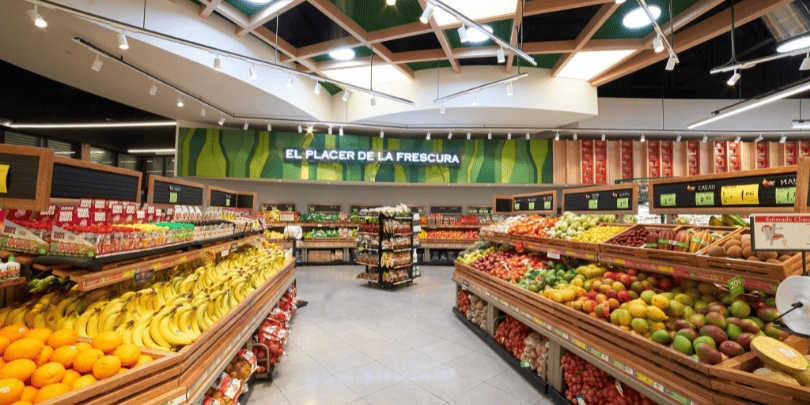 Where: El Vergel, Las Americas, Miraflores, Don Bosco, Challuabamba
Supermaxi is a large supermarket chain in Ecuador. The stores have a modern design reminiscent of grocery stores in Northern America. Many expats choose to shop at Supermaxi for the variety of products available. They are also the most likely to stock produce not commonly found in Ecuador, but familiar to expats such as kale, brussels sprouts, or Jif peanut butter. They have a large number of imported goods that may be difficult to find in smaller stores.
Supermaxi offers discounts of 20% for produce on Wednesdays and 10% for proteins on Fridays.
They also have their own discount card which you can obtain by talking to the service desk. You'll need your passport or cedula to register. The prices in this study are AFTER we've used their discount card.
Coral Hipermercados
Where: Mall del Rio, Coral Centro, San Blas, Monay, Batan, Racar
Coral is a superstore that includes a full supermarket. Hardware, home goods, appliances, office supplies, medical supplies, clothing, and more are located in one retail space. It is comparable to the big box stores like Walmart. Coral offers the convenience of one-stop shopping for all your needs.
Coral offers a 10% discount on meats every Tuesday, 15% discount on fruits and vegetables every Wednesday, and 10% discount on dairy products every Thursday.
The YapaTree discount card provides a 5% (3% with debit/credit card) discount on Coral purchases and can be used any day of the week.
You can also sign up for their in-store loyalty program that will get you 3% off too. You'll need your cedula (sometimes passports are ok).
Arandano
Where: Las Pencas
Arandano is a smaller grocery store that specializes in bulk products. This location offers a variety of flours, beans, lentils, rice, nuts and other dried products. They carry meats, cheeses, produce, and shelf-stable items but with a limited selection. Expats that are looking for alternatives to traditional products, healthy options, or that have special dietary needs enjoy shopping at Arandanos.
Arandano also offers exceptional customer service. They reply to Whatsapp messages and will check their warehouse for products if you ask nicely.
Aki
Where: Arízaga, Narancay, Totoracocha
Aki is a supermarket chain in Ecuador. They have the same parent company as Supermaxi, but tend to be slightly smaller with a more limited selection of goods. Aki will occasionally carry goods that aren't found in smaller stores in Ecuador. This may be because of buyers that work for both chains. Produce at Aki is less perfect than what is found at Supermaxi. Products purchased by the parent company are graded for quality and divided between the two supermarkets. Expats shop at Aki because of lower prices, but a relatively large selection. Some of Aki's daily discounts include 25% off produce on Tuesdays, 15% off yogurt and cheeses on Wednesdays, and 15% off red meats on Thursdays.
Local Tiendas
Where: Near your home…
Also known as a corner store or convenience store, local tiendas can be found in every neighborhood in Cuenca. The appearance can often be a small opening with bars to someone's home. The selection available at neighborhood tiendas can vary, but all of the items on our list were found at the tienda near Parque Iberia. Not only are tiendas a good option if you run out of an ingredient, but are perfect for single people wanting to buy in smaller quantities at a good price. Expats can easily purchase one garlic bulb, 10 cents of cilantro, or a cup of flour.
Having a good relationship with your local tienda can be very helpful and the results of our price comparison suggest you'll pay less than visiting any of the large supermarket chains.
Finding specialty products in Cuenca (incl vegan, Asian & meat products)
While larger supermarkets offer most of the grocery items expats need, smaller shops provide hard-to-find goods. Local specialty shops such as Cuenca Shop (YapaTree Card Partner), Tienda Nectar, Gracies Natural, Hacienda Chan Chan, and Onigiri can offer quality products and by shopping there you're supporting local businesses.
The King's Smokehouse bacon at Cuenca Shop is unparalleled. Onigiri has Asian products like fish sauce and miso. Tienda Nectar offers natural products and supplements that are hard to find elsewhere.
Now, let's get to our price comparison study.
Our Price Comparison Methodology
In order to examine prices, a list of 21 items was selected and purchased from different stores in Cuenca. We've included the following grocery stores in our comparison:
Traditional markets
Supermaxi supermarket
Coral supermarket
Arandano bulk food market
Aki supermarket; and
Local tiendas
Variety and selection of products can vary greatly in Ecuador, so selecting commonly found items enables an equal comparison. To determine the cheapest prices, the lowest priced generic brand was used for analysis.
Whilst this is the best apples vs apples comparison we could make, we still acknowledge that because we couldn't find the same brands, there is potentially a difference in quality that we haven't accounted for.
The results of our findings are below.
Grocery Price Comparison Results
All prices are based on 1lb, unless otherwise noted.
Proteins
Mercado
Local Tienda
Coral
Supermaxi
Super Aki
Arandano
Chicken
$1.25
$1.50
$2.68
$1.69
$1.19
$1.53
Beef
$2.80
$3.20
$3.44
$4.62
$2.27
$3.65
Pork
$2.00
$2.50
$3.18
$2.46
$2.73
$3.35
Fish
$1.25
$4.00
$4.00
$5.87
$4.03
$6.55
Shrimp
$3.00
$4.00
$3.60
$6.87
$4.51
$5.94
Total
$10.30
$15.20
$16.90
$21.51
$14.73
$21.02
% More than
Mercado
48%
64%
109%
43%
104%
Protein Price Comparison Cuenca
Produce
Mercado
Local Tienda
Coral
Supermaxi
Super Aki
Arandano
Onions
$0.40
$0.50
$0.59
$0.73
$0.50
$0.62
Tomatoes
$0.40
$0.50
$0.49
$0.48
$0.45
$0.54
Apples
$0.73
$0.83
$1.13
$1.05
$0.80
$0.99
Potatoes
$0.30
$0.60
$0.52
$0.65
$0.54
$0.48
Pineapple (1)
$1.00
$1.50
$1.00
$1.09
$0.96
$1.20
Total
$2.83
$3.93
$3.73
$4.00
$3.25
$3.83
% More than
Mercado
39%
32%
41%
15%
35%
Produce Price Comparison Cuenca
Shelf Staples
Mercado
Local Tienda
Coral
Supermaxi
Super Aki
Arandano
Sugar
$0.45
$0.45
$0.40
$0.37
$0.37
$0.43
Spaghetti
$1.00
$2.00
$1.12
$1.75
$1.06
$2.04
Flour
$0.47
$0.50
$0.42
$0.67
$0.67
$0.38
Rice
$0.50
$0.46
$0.38
$0.50
$0.39
$0.39
Beans
$0.80
$1.00
$1.38
$1.47
$1.29
$1.24
Quinoa
$1.50
$1.20
$1.40
$1.82
$1.81
$0.93
Total
$4.72
$5.61
$5.10
$6.58
$5.59
$5.41
% More than
Mercado
19%
8%
39%
18%
15%
Shelf Staples Price Comparison Cuenca
Miscellaneous
Mercado
Local Tienda
Coral
Supermaxi
Super Aki
Arandano
Box Wine
$5.00
$5.00
$4.51
$4.46
$4.29
$5.00
Eggs (30)
$3.50
$3.60
$4.70
$3.89
$3.89
$3.45
Milk (1L)
$0.70
$0.90
$0.75
$0.77
$0.70
$0.89
White Bread (loaf)
$1.00
$1.05
$1.07
$1.27
$0.99
$1.74
Honey (small jar)
$1.00
$2.00
$2.33
$4.17
$4.17
$3.70
Total
$11.20
$12.55
$13.36
$14.56
$14.04
$14.78
% More than
Mercado
12%
19%
30%
25%
32%
Miscellaneous Price Comparison Cuenca
Total Cost
Mercado
Local Tienda
Coral
Supermaxi
Super Aki
Arandano
All items
$29.05
$37.29
$39.09
$46.65
$37.61
$45.04
% More than
Mercado
28%
35%
61%
29%
55%
Total Costs of Groceries Compared Cuenca
Price Comparison Results Summary
The results of the cost comparison were eye-opening. The total cost of our shopping list was between $29.05 & $46.65 demonstrating that where you shop will impact your food budget considerably. 
Mercados are the cheapest option
Perhaps it's no surprise that the market was the cheapest option for grocery shopping in Cuenca with a total cost of $29.05 for the 21 grocery items. 
When buying seafood or potatoes, definitely consider the market as the variety, freshness, and price are very difficult to beat.
Supermaxi is the most expensive followed by Arandano
Other stores were more expensive than the market, with Supermaxi coming in as the most expensive option. A basket of items at Supermaxi came to $46.65 which is 61% more expensive than going to the market. It's almost possible to feed two families by shopping at the market instead of Supermaxi. Supermaxi did have pristine and varied produce, but you pay significantly more for it.
Coral, Aki, and the local tienda were much cheaper options than Supermaxi for those looking for alternatives to the traditional market.
Get 5% off at Coral
Using the 5% YapaTree discount on groceries (and other general household necessities) at Coral could add up to substantial savings, just skip the expensive eggs.
Don't skip the local tienda!
Finally, the neighborhood tienda is great for single individuals & those smaller shops. Oh, they also had the best-tasting pineapple. Lorena, the owner, explained that she knows what produce is ripe and buys a special variety of pineapple that isn't offered at the market. It was 50 cents more but was well worth the extra cost. This attention to detail doesn't scale, so it's only available at your local tienda. The better your relationship with them, the more you'll learn & save.
Wrapping up
Expats shop at a variety of grocery stores for many reasons. Hopefully, this price comparison of many of Cuenca's popular grocery options helps guide your future shopping decisions.
If you're wondering why your budget is more than the cost of living estimates you've been reading about online, it might very well pay to look at your shopping choices.
Perhaps the best strategy for you is a combined approach where you shop at specialty stores for those difficult to obtain or luxury items, but do the majority of the shopping at the cheaper markets. Or, perhaps you just like the convenience and quality of Coral or Supermaxi and decide to do all your shopping there. Your money, your call.
If you are a regular shopper at Coral, grabbing a YapaTree Discount Card will generally pay for itself over a few months.
Got any other grocery shopping tips? We'd love to hear them in the comments or in our Cuenca Yapas & Friends Facebook group.