Looking to rent or buy in Cuenca? This guide covers the neighborhoods popular with expats and why. First time visitors are often surprised at the variety of properties contained within Cuenca and the impact the local environment can have when choosing a property that matches their preferences. So it certainly pays to cast a wide net and then circle in on what matters most to you.
If a neighborhood isn't included in this guide, that doesn't necessarily mean it's 'bad', just isn't as generally popular for one reason or another. You might find a different neighborhood that you absolutely love and this is exactly why we generally recommend checking out many different neighborhoods, not just the ones mentioned in this guide.
Ready, let's find your new Cuenca pad!
Cuenca Neighborhood Map
Many thanks to Jeff Schinsky for creating the original neighborhood map. I'm sure it took a long time to create and I've personally used it numerous times during my own property searches. Perfect for beginners trying to navigate their way around Cuenca for the first time.
Before getting into the 'best' neighborhoods, we do need to cover some important details.
What makes a neighborhood popular with expats?
Accessibility to amenities
We hear this time and time again. Especially for newer expats that fall in love with Cuenca's old-world charm and don't want the hassle of investing in a car.
Some of the most important amenities to look for typically include:
Supermarkets & mercados
Hospitals
Public transport (buses & tranvia)
Restaurants, nightlife & events
Museums & other cultural delights
Parks
Bike paths
Schools (not for everyone obviously)
Keep whatever amenities are important to you top of mind whilst conducting your search.
Noise
This can be a tricky one as there can be many variables at play. But, it can be a significant factor for many. It's one of the main reasons we generally suggest renting an apartment or house first before buying as this will give you the time needed to discover any unwanted noise pollution.
Temperature
How important is a few degrees higher, or lower, to you? The micro-climates found in and around Cuenca can make a significant difference. Artificial heating isn't super common either, so it can be difficult to turn a cold house or apartment into something more toasty.
Build type & quality
As you start to make your way through the various neighborhoods, you'll pick up on certain themes. One of these can be construction type & standards. For example, Gringolandia is renowned for US-style apartments (hence the name) which can be of higher standards than apartments found in other areas.
Neighbors & reputation
Whilst it can be difficult for expats to pick up, there is a strong class system amongst Cuencanos. Part of this has to do with which neighborhood you choose (or can afford) to live in. The theory is that areas with a better reputation are also more likely to contain higher-class neighbors. I personally don't have time for these types of class-based stereotypes, but the fact that they exist can be useful for understanding why others are also choosing certain areas.
Nature
How much greenery do you want in your life? Cuenca is blessed with many rivers & parks that can really change the mood and aesthetic of the surrounding areas.
You'll also find suburbs a few minutes outside of Cuenca that provide ample access to nature & outdoor activities such as hiking and mountain biking – the trade-off with these locations can be access to amenities.
Terrain slope
Cuenca is surrounded by mountains. But, there are also sections within Cuenca that can be quite hilly. The higher the property, the better the view. But this may also mean the property is more difficult to access by car or foot.
Angle
Let's get to the popular Cuenca neighborhoods now. These aren't ranked in any particular order.
1. El Centro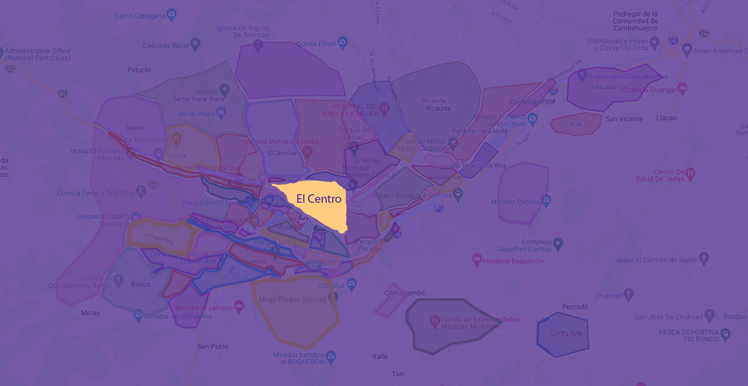 The heart and soul of Cuenca is the living, breathing historic center; El Centro. It's an obvious drawcard for most expats to visit, and it's very tempting to live as close to the center as possible.
El Centro Pros
You get to live in one of the most unique and culturally rich neighborhoods in the world. Yes, the world.
Super walkable. Walking is so much better than driving
You'll be living close to many of Cuenca's historical landmarks
You can feel the energy. Unlike Quito's historic district, Cuenca's is packed full of locals living life. Like most areas in Ecuador, Sundays are reserved for family time so El Centro can feel like a ghost town.
El Centro Cons
Noise: The compact nature & style of buildings don't lend themselves to good acoustic insulation. In addition to the street noise, it's not uncommon to hear your neighbors party or even talk loudly.
Traffic: It can sometimes feel like all roads lead to El Centro. This can lead to gridlock during peak hours.
Fumes: This one goes hand in hand with traffic & the busses. I believe it's gotten better in recent years, but there are still noticeably more fumes in El Centro than in other barrios of Cuenca.
Patrimonial restrictions: Many houses in El Centro are (rightfully) protected to ensure future generations can enjoy them. This means it can be very difficult & expensive for owners to have any renovations made. So, that leaking roof may not be an easy problem for anyone to solve.
2. El Vergel / Parque De La Madre
10 minute walk from El Centro across the Tomebamba River and you'll land in El Vergel. This area is more modern than El Centro and features a lot of the conveniences desired by expats.
El Vergel Pros
More space than El Centro
Close to supermarkets (Supermaxi), Millenium Mall (inc cinema), hospitals, restaurants & cafes
Parque De La Madre on your doorstep
Good public transport network available (buses & taxis – no tranvia)
El Vergel Cons
The desirability of El Vergel also means it has a price tag to match.
3. Gringolandia / Ordonez Lazo
The aptly-named Gringolandia is another favorite amongst expats. It can be a good landing ground for newer expats because the style of apartment buildings can feel closer to what they're used to.
Gringolandia Pros
Walking distance to El Centro with a nice river path
Supermaxi & Sukasa (high-end homewares & electronics store) are close by
US-style condos
Easy access to the Tranvia (& El Centro)
Lots of apartments for sale & rent
More likely to come across other expats
Gringolandia Cons
The high rise apartment buildings aren't for everyone's taste
Higher density living
Noise from Ordonez Lazo can be an issue. This is the main route from Cuenca to Guayaquil.
4. San Joaquin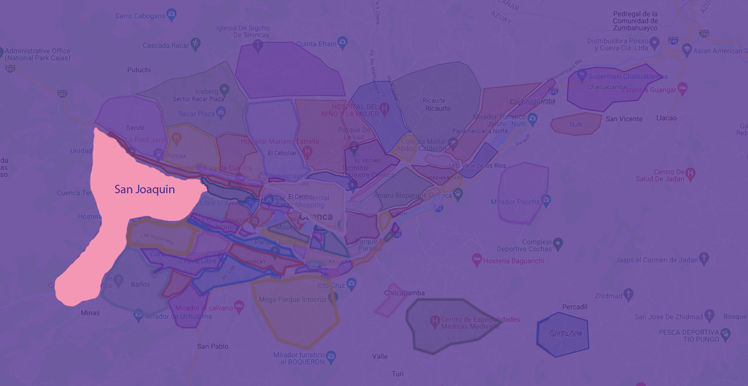 A few minutes from Gringolandia (heading away from Cuenca) you'll come across San Joaquin. You're basically a hop skip and a jump from the Cajas at this point, which does decrease the temperature of the area.
San Joaquin Pros
Semi-rural nature of area is ideal for hobby farms & just enjoying the scenery in peace
Cuenca still only 10-15 mins away
One of the most popular places for expats to buy a house because of the large lot sizes available
San Joaquin Cons
Can be on the colder side, especially when the winds pick up
Spread out nature of area decreases access to shops etc
5. Remigio Crespo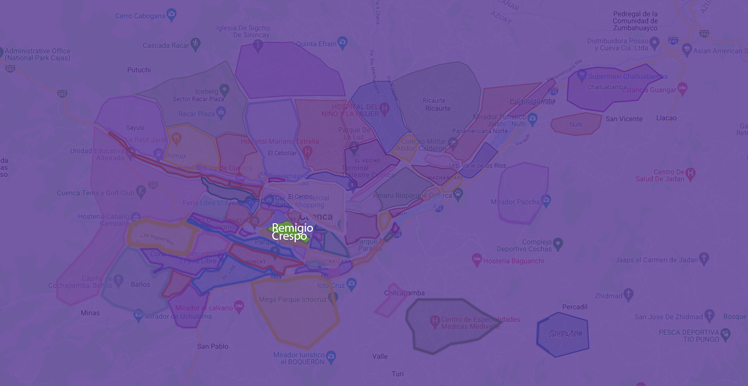 Back amongst the hustle and bustle is one of the most lively areas in Cuenca; Remigio Crespo. This can be a great middle-ground between being close enough to El Centro, whilst also having access to a lot of modern facilities such as hospitals, shops, restaurants and bars. There's also a lot of commercial activity such as banks in this area.
Remigio Crespo Pros
Lots of fun to be had here with a variety of restaurants, cafes & bar options
El Centro is approx 25 minute walk away
Close to many core ameneties such as hospitals, supermarkets and parks
It's easily one of the most centrally located neighborhoods in Cuenca. Walk in any direction and you'll stumble across another interesting area.
Remigio Crespo Cons
One downside of a lively neighborhood can be the noise. There are certainly quiet sections though.
6. Don Busco / Primera de Mayo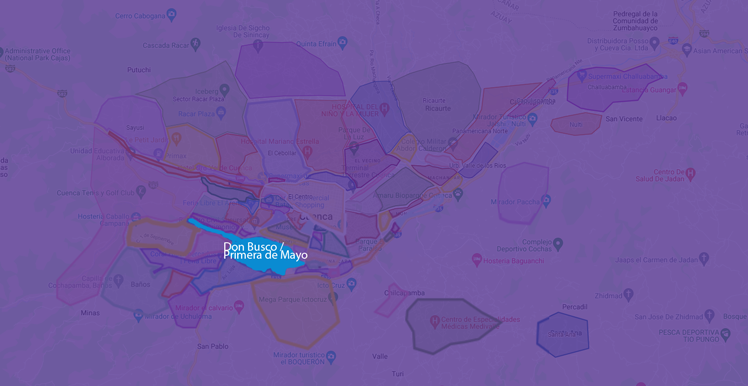 A little further out past Remigio Crespo & the Yanuncay River is Primera de Mayo / Don Busco. This area has a more suburban feel, but still boasts some modern facilities such as Supermaxi supermarket and Mall Del Rio.
Don Busco Pros
More relaxed vibe, especially along the Yanuncy River & Lineal Park
Close to Mall Del Rio for your shopping fix (including cinemas) & a large food court.
Higher chance of finding a property with a backyard / green space
Don Busco Cons
Bit of a stretch to walk to El Centro
Transport options could be better
7. Los Ingenieros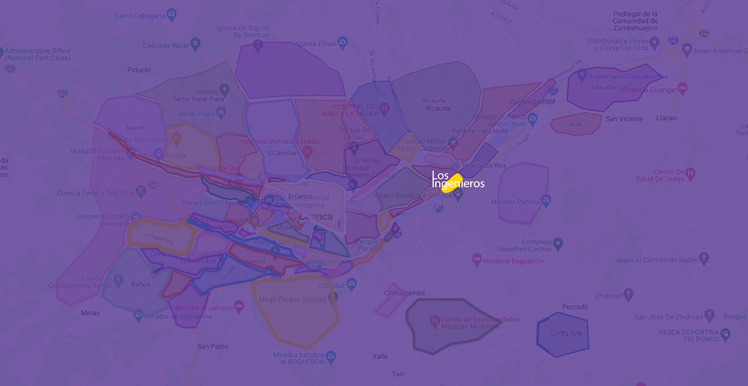 Speaking of lovely rivers and lineal parks, Los Ingenieros boasts some of the longest and biggest in Cuenca. The new bike path will also connect this area to Cuenca, so you can enjoy a lovely ride along the river whenever you want to visit. Valle de los Rios is right next door and shares many similar characteristics, so we also recommend checking this area out – the kids just love the bike track at Parque San Marino.
Los Ingenieros Pros
Parks, rivers and green space for daysssss
Very family-friendly atmosphere
Close to Hospital Del Rio (one of Cuenca's best)
Can find some good value houses & apartments
Los Ingenieros Cons
Few shops, cafes or restaurants. It's a very suburban area.
8. Challuabamba
We've saved the best til last. Joking. Well, kinda. It's the neighborhood that we've chosen to live so I guess we do consider it the best for us. Challuabamba is a 20-minute drive from Cuenca on the 3-lane highway towards Azogues. It's a few degrees warmer than Cuenca and boasts some of the city's most exclusive private neighborhoods – but there are still semi-rural areas to enjoy without the high price tag.
Challuabamba Pros
Warmer than Cuenca (you'll find lots of nurseries here for that reason)
Great hiking and mountain biking on your doorstep
Large land plots mean you have a very good chance of having a garden and/or green space included
Great for families. Home to Cuenca's most exclusive school (German School) if that's your thing.
High growth area with Supermaxi (opened in 2021), Italdeli and other well-known favorites opening up.
Challuabamba Cons
Without a car, you'll need to take buses or a taxi ($7 to El Centro).
Large parts of Challuabamba still have unpaved roads. Which can also look weird as you've some expensive houses sitting on dirt roads.
Wrapping Up
There's a tonne of flavor offered by Cuenca's different neighborhoods. This translates into providing options for many different tastes and budgets. Whilst we do suggest starting your property search with the neighborhoods we've recommended, there are many others that you may love even more so don't be afraid to explore far and wide to find your little piece of Cuenca heaven.
We'd very much like to hear your favorite neighborhoods in the comments.