Many gringos have loved going to Tienda Nectar over the years, but there are still many health seekers who don't know about this gem in Cuenca. Tienda Nectar is the gringos' go-to health food/supplement shop with international owners from Ecuador (Tania), Greece (Yianni, Tania's husband) and the USA (Ken).
In this article, we explore the history of one of Cuenca's most loved natural health food stores. We've included an interview with one of the owners and also share details of an upcoming food event that will be held at Tienda Nectar.
Tienda Nectar's long Cuenca history
Most people don't know about Tienda Nectar's origin as a popular vegan restaurant that started in October of 2011. It was the first whole food, gluten-free, vegan restaurant in the country, and included many raw food dishes. On the walls were featured works from different domestic and international artists.
Reborn as a health food store
Soon after opening the restaurant, the health food store, Tienda Nectar, started operating on the ground floor, where coconut oil was a big hit and Tienda Nectar was the first in Cuenca to carry it. People would line up to buy or preorder it.
In 2014 the restaurant moved down the street, stopped making food and joined forces with Ken and Tienda Nectar was reborn. By focusing on the health food store only, they proceeded to add a variety of goods previously unavailable in Cuenca. Over the years, people seeking everything from essential oils, Amazonian tinctures, supplements and a variety of local products such as homemade sauerkraut, kimchi, raw vegan curry crackers & even massage oils have found their way to Nectar.
The staff/owners are very helpful and informative. So much so, that we hope to see more in the way of workshops, lectures, and fairs. Please see the details below for Tienda Nectar's upcoming special event.
Owner interview with Ken
I sat down with Ken to get his insights into the Tienda Nectar store:
What inspired you all to create this health store?
The store started as a bookcase in the back of an alpaca sweater store on Calle Larga and the desire to find healthy products made in Ecuador for myself and my friends. Our first items were coconut oil and chia seeds. 
In 2014, We officially opened as a store in the bottom recesses of the Nectar restaurant. When the restaurant moved up the street, we moved with them and later that year, when the restaurant closed, Tania and Yianni officially joined.
Where do you get your products?
The majority of our products are from Ecuador. Our imported items are purchased through Ecuadorian companies. We have always sought to support small, local producers with fair trade purchasing policies.
What are some of your best-selling products?
We have worked with Franco Organico's products for many years now and one of our best-selling products is his fudge bars. The sauerkraut and kimchi made by Tania and Yianni are hard to keep in stock and we sell a lot of raw vegan curry crackers made by Susan Schenck.
I have found your staff to be very informative about health and your health products. Have you considered having free lectures?
We have thought of classes and lectures but in the past attendance was low and we discontinued the concept. We are open to the idea in the future.
How is your store different from many of the local "Tiendas Naturalistas"?
What makes Nectar different is the breadth of our products. We strive to be the "Trader Joe's" for a healthy lifestyle.
We also stay abreast of the latest health knowledge and seek out products that will support a longer, healthier life for our clients.
We are currently making our own shikimic acid and encapsulating NAc (N-acetyl cysteine, which prompts the body to make more glutathione). We just put Nectar's version of Natural Calm (a magnesium drink) on the shelf. I looked at the ingredients in Natural Calm and found them here in Ecuador. It is NOT the sweet, flavored treat that Natural Calm produces. I sweeten it with organic stevia powder but can't find natural flavorings. However, it works the same as Natural Calm.
We always seek out products made by our local community and the indigenous groups of Ecuador.
What are some products that people should know about?
We carry a wide spectrum of Alfa Vitamins and minerals that are legally imported into Ecuador and have Registro Sanitario. If more people knew these vitamins & minerals were available here, they would not have to rely so much on muling in their supplements.
We also have a wide selection of CBD products in a variety of strengths and forms. From softgel capsules to chewable gummies and topical salves. We even have one for cats and dogs.
Food Event with Lunch – May 7th, 2022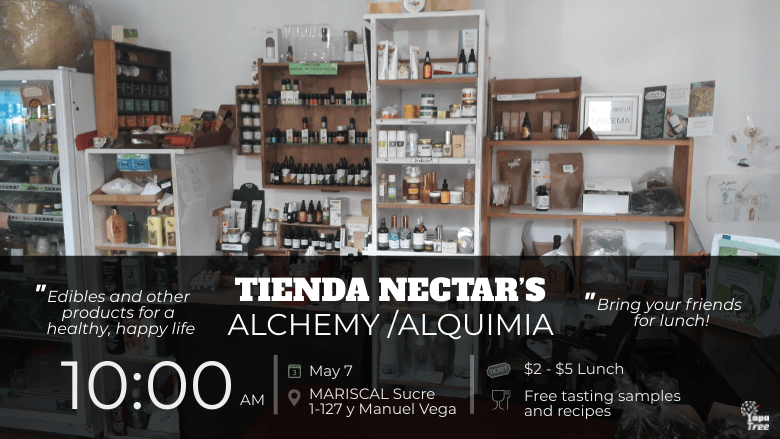 On Saturday, May 7th from 10 AM till 2 PM,  Tienda Nectar will host Mercadito Alquimia. This will include food demos, free tastings, free recipes, and a healthy, gluten-free lunch costing $2-5. 
This is a great opportunity to meet the inspirational owners of Nectar and take advantage of their knowledge and expertise.
We hope to see you there at their current location on 1-127 Mariscal Sucre y Juan Manuel Vega. Ring the red buzzer on the white doors. They can be contacted via: