A city with a university is usually a big cultural arts center for the region. When there are several universities in a city, it becomes an arts capital.
That is what Cuenca is as it has been called by native Ecuadorians and expats, "The Arts Capital of Ecuador." Some have called Cuenca, "The Rising Arts Capital of Latin America."
The Jazz Society Café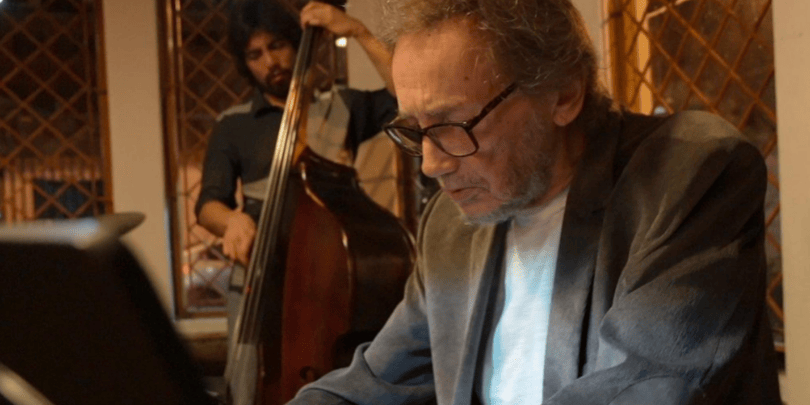 A good example of the plethora of arts is The Jazz Society Café. New York native Jim Gala opened this special venue in 2012 in El Centro. Since then, this jazz venue, which is the only one in Ecuador, has moved to the west side of the city.
Bringing jazz to Cuenca and Ecuador began in 2011 after Gala spent ten days in town. In an interview with me in 2020, Gala said, "I remember that nothing here bothered me. It was a nice, pretty, medium-sized city." That first impression brought him back for good a year later.
The Jazz Society of Ecuador is a national organization. It defines itself as a volunteer society of musicians, music teachers and jazz enthusiasts. Today, there are over a thousand members in Ecuador, about half of them living in Cuenca.
Gala wants people who have never listened to live jazz to experience something special. "Many people, especially Americans, have never been to a real jazz club. There's something about live music. When you are in a room there's something extra going on with the music," Gala said. "There is a looseness and ease at a jazz club. It's a free zone. It's a relaxed atmosphere."
Gala feels that jazz can be uniquely personal and so alive and soulful that it's accessible to everyone regardless of their musical tastes. "Jazz at its best can be very intimate. It's very unpretentious and it can be very profound," Gala said. "It's like a good book and can change the way you think. You leave the performance a different person."
Clarinetist Su Terry is a native of Wilton, Connecticut. She grew up with jazz great Dave Brubeck and his sons. The leader of Su Terry & Jazz De Barro says that artists flock to Cuenca as they know it is 'the' city in Ecuador for the arts.
Terry is a frequent guest of The Jazz Society Café. Jazz de Barro plays traditional jazz but incorporates the music of the area. Capishca is a musical genre of Andean music that is heard and danced in Ecuador, especially in the provinces of Chimborazo and Azuay. The word "capishca" comes from the Quichua verb, capina, which means to squeeze. All this music is only in Cuenca.
Don't forget your yapa: Free cover on 1st visit, next visits 10% off the bill for YapaTree cardholders at Jazz Society Café
The Cuenca Symphony
All genres of music are represented in Cuenca. Live classical music can be heard numerous times a year. The Cuenca Symphony is funded by the national government, but it performs as a local symphony for the residents. Founded in 1972, many of the symphony's concerts are performed at their home at Teatro Pumapungo. With 700 seats it is big enough for a wide variety of events and small enough to still feel intimate.
A good portion of the performances is in a lovely setting at the Old Cathedral of Cuenca. It has performed at other large churches, including Iglesia de Santo Domingo and Iglesia La Merced. The symphony is beloved by expats as they find the music to be world class. Adding to that love is the concerts are free.
Maestro Augusto José Carrión Rodas had his first anniversary as the symphony's leader earlier this year. "I was here for two seasons… 1978 to 1980," Carrión said. He was a viola player for the symphony.
After his time as a violist for two years with the Cuenca Symphony, Carrión was invited by the musical program, Sistema Nacional de Orquestas de Venezuela (El Sistema). It is an acclaimed publicly funded, non-profit organization for children's music education programs, from which great musical figures of the world such as Gustavo Dudamel have graduated from. One of the symphony's cellists, Yackson Sanchez, is a graduate of El Sistema.
Making the Cuenca Symphony Orchestra world renowned is the maestro's goal. He wants guest conductors from around the world, including from France and Spain. In March, Korean director Jongwhi Vakh led the symphony, and Spanish Maestro Íñigo Pirfano conducted in late-July.
Carrión says that virtual concerts on Facebook and YouTube have given the group of musicians a big worldwide presence, especially during the Covid pandemic, when there were no public performances.
Common Grounds
Elwood Blues may be alive and well in Cuenca. There is a good chance that many musicians have announced, "We're putting the band back together." Cuenca is rich in local bands playing at several locations in the city.
One of the biggest venues for live music is Common Grounds Sports Bar & Grill. It is a huge expats hangout, but there is a large Ecuadorian presence in the audience.
Located on the west side of the city, the sports bar has been around for eight years. Their menu was definitely created with expats in mind. Most of the staff is comfortable speaking both English and Spanish. A pool table and big screen televisions are part of the ambiance. As one online reviewer stated, it is an "ideal place to relax and meet people."
Many of the local bands performing at Common Grounds Sports Bar & Grill are expats of all ages. One group says they are "a loose group of musicians playing Blues and Americana music."
Another group is Cuenca Soul Band. Their leader, J.W. Marshall, said they are "a soul, blues, jazz, and funk band." They add, "We are a seven-piece band and will surely get your feet moving' and your hands clapping."
The 65-year-old Marshall moved to Cuenca from Atlanta, GA, looking to play his music. "Music is my life. I came here to play," said Marshall. "I was weaned on blues and jazz."
As a young man, Marshall went to Ithaca School of Music, where his jazz guru was Steve Brown, the sideman for flugelhorn player and composer Chuck Mangione. Marshall performed at Orlando's Little Darlin's Rock and Roll Palace. The now-closed music venue was considered the world's premier Oldies night club. At one point, Marshall was performing with the Texas band, Toby Beau, known for their 1978 hit "My Angel Baby."
There is a trio of musicians that all play the ukulele. They say, "We play our eclectic mix of music with our favorite ukes, 12 string guitar, mandolin, and harmonious voices!" One of them is an American woman who sang opera. They have performed numerous times at Common Grounds Sports Bar & Grill.
Don't forget your yapa: 5% off the bill for YapaTree cardholders at Common Grounds
La Guarida
American blues musician, vocalist, songwriter, arranger, and record producer Willie Dixon said, "The blues are the roots and the other musics are the fruits. It's better keeping the roots alive, because it means better fruits from now on."
The roots are alive because of places like La Guarida. Cuenca native Andrés Zambrano opened what is now the #1 rated restaurant in the city, according to Tripadvisor (Note: El Oasis was #1, but the owners closed it to move to Costa Rica).
La Guarida is a cultural center and a restaurant. Located on the western end of Cuenca's historic district, it is the heartbeat of Convención Del 45, the neighborhood where Ecuador's 1845 constitution was drafted.
La Guarida presents movies, live music, and various forms of live entertainment, including Canelazo Stories, where locals (Cuencanos and expats) tell uplifting and funny life stories.
Zambrano is such a huge supporter of the arts that he does not take a cut of the admission charge. All the money collected goes straight to the musicians. "Everyone benefits! It supports the artists," Zambrano said.
A good example is the highly talented blues guitarist Naza Gomez, who hails from Buenos Aires, Argentina. He has played as a soloist artist at La Guarida, but as a member of the very popular Blues Enigma Band, Gomez has been performing at places throughout the city including Casa Yangoe, HaHa Lounge by 184, República Sur, and VeVos Gastro-Arte. Bands will even venture up the hill to play at El Farol Bistro Lounge, in Turi.
After a July solo performance at La Guarida, Zambrano thanked the Argentinian guitarist and asked him to call Cuenca, "Home." On Facebook the next day, Gomez said, "Thanks to the community of foreigners who value and help spread the art scene in Cuenca much more and who keep it completely alive and thanks to that we have work. And I am very happy because I will do my best to deliver more music and I know that many people will give me their encouragement to continue in this branch. Infinite thanks for the words of each one. I'm happy."
Don't forget your yapa: 10% off bottles of wine & free popcorn on movie nights for YapaTree cardholders at La Guarida
Bistro Yaku
Another popular live venue is Bistro Yaku. The comedic genius Robin Williams said, "There's a world out there. Open a window, and it's there." Bistro Yaku did just that. In the patio garden of Yakumama Hostel, Bistro Yaku opened itself to the world for its food and entertainment.
The sister of the chef and owner of Le Petit Jardin owns and operates this very popular El Centro restaurant. The award-winning menu is contemporary, with beautifully prepared and delicious gourmet food. Expats all claim the quality of the food is outstanding. And the ambiance is certainly relaxing.
Groups such as Northern Roots, Cuenca Soul, Axolotl, and Banana Rock Band have performed to a packed house. In July, David González, Ortiz Director of the Cancun Big Band, flew in from Mexico and performed at Yaku Bistro. Rafaela Medina, whose musical project combines elements of Latin American folklore with contemporary soundtracks, was at Yaku Bistro in July. It is an intimate setting to enjoy your favorite music being performed.
La Yunta
La Yunta has the honor of being on the south side of the city by itself for live music. Housed in an old villa, across the street from the Yanuncay River, La Yunta bills itself as a "family restaurant where you will enjoy local and international cuisine. Recipes of the grandparents, world food made by Cuencanas hands with love."
Sole Riquetti de Gould and her British husband, Jim, moved from the very southwestern part of the city to this historic adobe hacienda in 2019. They added a skylight over the courtyard and have done a fantastic job with the indoor landscaping of succulents, jade plants, and numerous flowering plants.
It is an oasis inside the restaurant, making it a great place to relax, unwind, and enjoy good food. For many expats and Ecuadorians, La Yunta is definitely one of the best places to eat in the city while being affordable. And of course, the setting is perfect for live music.
It is why musicians like Cuenca's Renato Albornoz perform at La Yunta. The 55-year-old guitarist never had any formal training. "I started playing the guitar when I was nine years old," said Albornoz. "When I was 11, I met an American who was working for Coca Cola. He would stay at my mother's hotel when doing business in Cuenca."
For two wonderful hours in May, Albornoz played beautiful music from his guitar for all at La Yunta to enjoy. Albornoz even surprised the audience when he played Hava Nagila (הבה נגילה)!
Albornoz has produced six CDs. Four of the CDs are remakes of other artists' music. Two CDs are completely the work of Albornoz.
"I am working on a new project, and I hope to have it ready in three months," said Albornoz. "I am testing something new including reggae with a Spanish guitar, a violin, bass, and drums." The goal is to debut his new music at a local performance "for all to enjoy." There is a good chance it will be at La Yunta.
It is not just indoor performances at La Yunta. Throughout the year, the restaurant has special events that are outdoors, on the lawn of the gorgeous La Yunta property. Live music is performed on a stage with lots of outdoor seating for one's meal and drinks.
Usually, there are numerous vendors selling their wares. All sorts of artwork, food, and alcoholic drinks can be found at the tents. It is a very popular part of these events.
On top of a great dining experience and live music, you will have a lovely time in their "tienda" that is full of products from the province of Azuay. It will be very difficult to not buy something from their quality artwork to handcrafted items to dinnerware to home furnishings that are for sale throughout the restaurant. The displays are tastefully done to become part of the wonderful ambiance. Think of it as a high-end Cracker Barrel.
As Hava Nagila says, "Let us rejoice."
Rejoicing is to be had for so many choices to hear live music in Cuenca.
Music Venues in Cuenca
Don't miss a beat – view YapaTree's Online Events Calendar (updated every Wednesday) and subscribe here for event newsletters every Thursday.
Photos by Stephen Vargha
Like this article? Consider purchasing Stephen's Book
Stephen Vargha's new book about Cuenca, "Una Nueva Vida – A New Life" is available at Amazon in digital and paperback formats.