When evaluating retirement destinations, local transportation is generally one of the more important aspects as it directly affects quality of life. After all, you'll have more opportunities to participate in your chosen communities if it's easy to move around.
A big win for Cuenca retirees is that the city is inexpensive and easy to traverse, with a variety of convenient, economical ways to get around that also accommodate different physical abilities and comfort requirements. We explore these options below, including the tranvia (tram), buses, taxis, biking and walking.
One significant bonus is that many retirees find they can do nicely without the trouble and expense of owning a vehicle. We explore the pros and cons of owning a vehicle to help you make an informed decision on whether the expense is worth it for you.
Let's take a spin around Cuenca.
Within Walking Distance 
Cuenca's advantages begin with its physical location and layout. Encircled by mountains with a bowl shape (Cuenca means "Basin"), Cuenca is by nature a compact city, with its population of about half-million generally living and working in close proximity. The concentration of people in this layout helps make walking a favorite way to get around.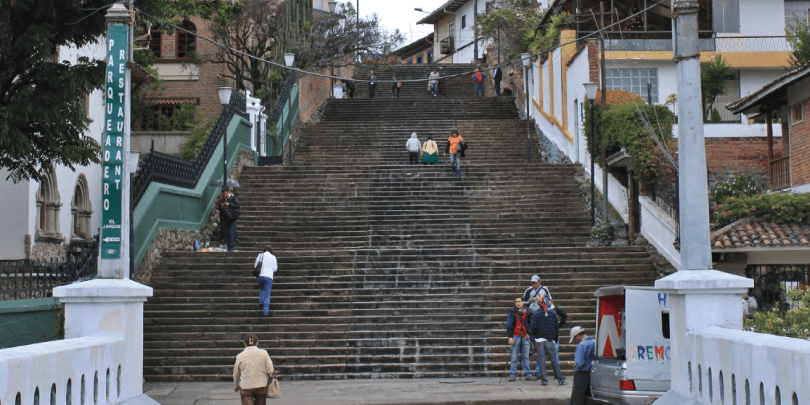 No place is very far in Cuenca. For example, the historic center, El Centro, has hundreds of shops, restaurants, and churches along with museums and parks – all within a square mile. In El Centro, everything is very walkable. Just 15 minutes walk from El Centro are the restaurants, stores, and healthcare facilities of the fashionable El Vergel neighborhood or the area surrounding University of Cuenca. The walk back to El Centro usually entails climbing one of three steep sets of stairs, like the Escalinata, up the side of El Barranco, the hill that separates El Centro from Cuenca's southerly districts. With some exceptions like those 3 sets of stairs and the 500 step climb to Mirador del Turi, much of Cuenca's terrain is relatively flat, easy going, especially considering that it sits in the mountains.
Even if you travel from one of the corners of the city to El Centro, it's only a 3 mile (5 km) trip – walkable for somebody in good health. And given Cuenca's year-round mild weather, temperature and rain tend to be minor deterrents for those equipped with an umbrella and a waterproof jacket.
Expats from the expansive North American suburbs can be the most impressed with the "walkability" here while those accustomed to hoofing it around walkable cities like New York or San Francisco will appreciate that they can continue their healthy walking habit.
A special note: Be extra careful crossing streets and around traffic. Cuenca drivers do not see pedestrians nor observe North American right of way norms or traffic laws. Your best strategy is to pretend you are invisible.
Public transportation: fast, frequent and frugal 
Walking is great for one's health and to learn about the city while taking in its beauty and charm. But a shortage of time or energy calls for alternatives. Fortunately, public transportation in Cuenca is extensive, with regular and frequent service every day from around 6 am to 10 pm. (Not a lot happens in Cuenca outside of those hours, and if you do need to travel between 10 pm and 6 am, there are taxis. More on these follow.) 
A network of some 28 bus routes covers every section of the city while the light rail line called the Tranvía travels smoothly and quietly on a single route across the city. With a pre-purchased, rechargeable card issued by the transit authority, Movilizate, fares for the Tranvía are just 35 cents for most people, and 17 cents for seniors, students, and those with disabilities. Bus fares are even a little lower – just 30 cents for the general public and 15 cents for seniors, students and the disabled.
The Tranvia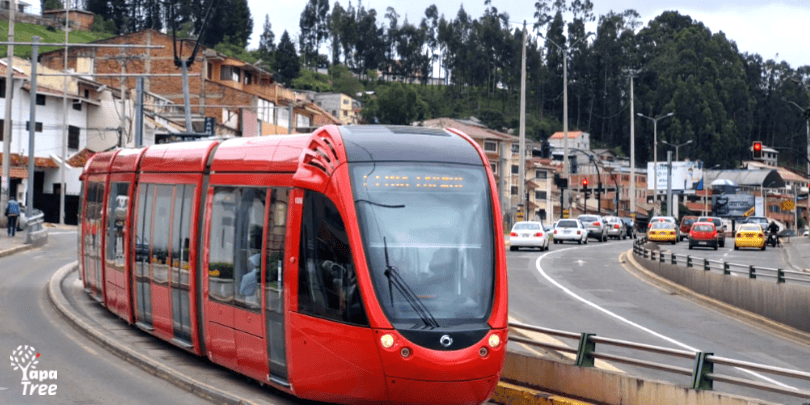 The Tranvía is Cuenca's 21st Century light rail system. 
Without a doubt, the Tranvía, which opened in September 2020, is the crown jewel of Cuenca's public transportation system. Just 6.6 miles (10.7 km) long, it not only covers many of the popular destinations of expats and native Cuencanos alike. And it also links to other forms of transportation like the intercity bus terminals and the airport. The trains, built by the French company Alstom SA (manufacturer of France's high-speed TGV trains and the Eurostar train connecting France with the UK via the "Chunnel") are clean, quiet, smooth-riding, and quick. Though they operate on city streets, they are given right-of-way over other vehicular traffic.
Tranvía fares may be purchased either as a single-ride ticket for one US dollar, or by presenting a Movilizate card that is linked to a pre-loaded balance. Single-ride tickets are sold from automated machines located at each of the Tranvía stations. The machines accept cash only and are valid for approximately 40 minutes. Movilizate cards are sold at five outlets – the main Etapa office at Calle Gran Columbia and Calle Tarqui in the Centro, at the Airport, the Terminal Terrestre, or at a small office located in the underpass under Av. Las Americas at the Arenal Mercado. Office Hours vary, but they are generally open weekdays during the business day.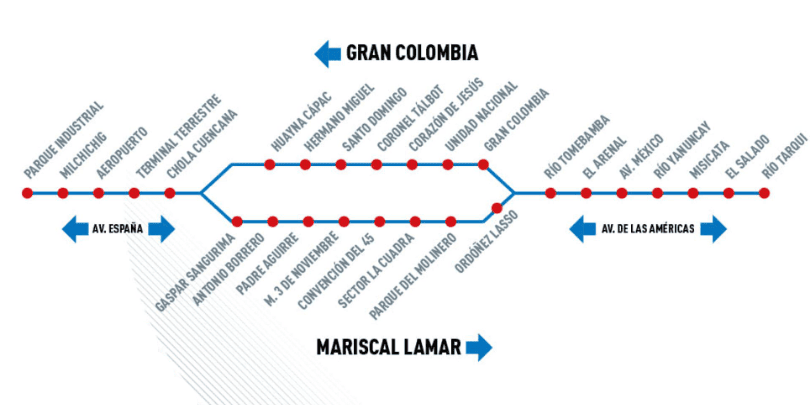 There is a small fee ($1.75) for purchasing the card, and purchasers can also add value (in any amount they like) at that time. Value can also be added (again, with cash only) at the machines found at each stop. After boarding the train, a controller, dressed in sporty Tranvía uniforms, will likely greet you with a friendly "Buenos Dias (Tardes or Noches)" and ask to see your card or your ticket. The controller will scan the card or ticket with a small portable device that checks to see that a fare has been paid and records it as having been used. More details on Cuenca's Tranvía here.
Buses Abound
Buses go all over the city, but are more of an adventure.
While the Tranvía sets the standard for a quiet and smooth ride and good coverage for many, it leaves a lot of ground to be covered by other transport modes. For example, the Tranvia does not cover much of the southerly side of El Centro or its southern zones. So, some may find it more of a hike to/from the nearest Tranvía stop than is desirable.
By comparison, Cuenca's 28 bus routes go everywhere the Tranvía doesn't (and where it does), and they move pretty quickly through the city traffic despite frequent stops.
But greater geographic coverage comes with a few provisos.
First, buses are a bit more complicated to access because you must first buy a Movilizate bus card as cash is not accepted. Second, due to many frequent stops, buses are often very bumpy and the buses lurch uncomfortably as the bus drivers maneuver through traffic. The drivers sometimes will start moving shortly after (or even while) you're walking to a seat. Lastly, the buses get crowded, and if you have to stand (though most passengers will offer their seat to a senior), be prepared to hang on tightly. All that said, many expats find that the bus is an acceptable and economical option.
Time-saving Tip – The Moovit App
Figuring your best bus route in any city can be challenging. But your smartphone and the free Moovit app makes it easy in Cuenca (and in most other cities.)
Request an itinerary by entering your start and end point and the time and day you want to leave or arrive at your destination. The app then gives you several options – because there are many bus routes. Pick the route you want to minimize walking or travel time or avoiding transfers, for example. You'll see the route number of the first bus you'll take.
Click your choice and you'll see walking directions and a map to the bus stop where you'll board your bus. Look for a sign that says "Parada." Most signs are blue and have a small bus icon. Sometimes there are shelters and often you'll see others waiting for the bus.
The next part is a bit tricky. Buses will not stop automatically at every stop, so you have to look at the approaching buses for the route number, displayed on the digital screen above the bus's windshield. If this is the route you want, wave your arm out with the back of your hand facing up to let the driver know you want to board. If there are others waiting for the same route, they may be doing the same, which makes it easier for you.
To be extra prepared, I recommend familiarizing yourself with your route in advance. Look at the maps on Moovit and on Google maps. You may even want to make some notes on your phone's notepad or on paper in case you can't connect to the Internet or your battery runs out of power while you're enroute. Once you've taken a particular trip once or twice, though, you'll be confident that you're on the right route. More details on riding the Cuenca buses can be found here.
Taxis, Taxis Everywhere
Taxis are very affordable and plentiful.
So, if the Tranvía doesn't go close enough to your destination and the buses are too wild and wooly for your taste, you'll be pleased to learn that Cuenca has about 3000 taxis.
Fares are gloriously lower than in most North American cities. The minimum fare is $1.50 (or about $2.00 later in the evening) and $3.00 will likely take you from any corner of Cuenca to El Centro. Riding from one end of town to the opposite end usually costs no more than $5.00 and drivers don't expect a tip – although you can expect most will keep some of the change if you don't require all of it. 
In Cuenca, unlike many other places in Ecuador, the cabs have a meter that clearly shows the fare. Be sure you see the meter is one when you get into the cab. If it isn't running, ask the driver: "Por favor a prender el metro."
The yellow colored cabs are highly visible and abundant. Except on Sundays, during football matches, at holidays and when it is raining – just like any other city. So, it is usually easy to hail one on a reasonably busy street. 
A Great Taxi App – Azutaxi
If you want door-to-door service, a great phone app called AzuTaxi is a reliable and easy way to go. It works similarly to Uber or Lyft, but you pay the driver in cash because it doesn't link to your credit card. There is no additional charge to use the app. You really only need an Ecuadorian cell number to enroll. Once the app is installed and you are enrolled, ordering a cab is simple. Click on "Pedir Taxi" (Order a taxi) enter your street location and "barrio/sector." Download the app via Google Play or Apple App Store.
Frequently, a driver will accept your request for a ride within a minute and you'll see the driver's location on a map. If no driver accepts a ride within three minutes, the request is closed and you can simply make another request.
Driving in Cuenca
Vehicle ownership for the adventurous.
Only a small percentage of Cuenca expats own cars because of cost and the availability of good public transportation, biking and walking options. But vehicle ownership has its advantages, like the freedom to travel outside of Cuenca. If you want to explore the beauty of Ecuador at will or live in Cuenca's suburbs, having a car can be very handy, liberating and worth the trouble and expense.
Buying a Vehicle
New and used cars in Ecuador are mostly imported and can cost two to three times more than their counterparts in North America mostly due to steep import taxes and other import costs. On the other hand, used vehicle quality is generally good because many owners take excellent care of their vehicles, and rust is virtually nonexistent. And the used car market generally contains a big supply of relatively low mileage vehicles.
Where to Look
You can start a car search by googling new car dealerships in Cuenca or checking the many used car listings on websites like PatioTuerca.com and PatiodeAutos.com. You can also find lower priced used car listings on sites like Mercado Libre and Facebook Marketplace, but researching these skimpy listings by individuals means a lot of messaging and waiting time to get even basic data as many sellers don't seem to understand that buyers want to know more than the make and color of their vehicle.
Get Help
Make any purchase offer contingent on an inspection by an independent mechanic. It is also recommended that you seek assistance with purchasing, registering, licensing, inspecting, maintaining, driving in hectic Cuenca traffic and insuring a vehicle because  each of these tasks requires special, current knowledge to get right. One good resource for all of these needs is Victor Ortega, WhatsApp +593987313565 who has many years as a facilitator in this field. Two government agency websites provide information about driving are EMOV  and ANT.
Getting a Driver's License
The rules for obtaining an Ecuadorian driver's license (like other rules and regs surrounding vehicle use and ownership) change often and can even depend on your visa type. The minimum requirements to obtain an Ecuadorian license are to pass a medical exam plus a written and practical driving test in Spanish and often to take a practical driving class. The practical tests take place in manual transmission vehicles. Victor Ortega is also a good resource in this department and there are others.
Insurance
Private insurance can cost about $400 – $600 per year for a low deductible policy and can dramatically simplify settlement and costs of accident damages.  One helpful resource is Blue Box Car Buying Service – a Yapatree Deal partner with a 12% car insurance discount. It is worth noting that many Ecuadorians do not buy car insurance so it may behoove you to do so as a means of protecting yourself and your vehicle.
Lower Ongoing Expense
Maintenance and other ownership costs can be much lower than in North America because of far lower labor costs and the availability of low-cost aftermarket parts (repuestos) especially for U.S. vehicle makes. Gasoline is much cheaper than in the U.S. and since most expats don't commute in retirement their gas consumption is lower than when they were commuting to and from work in the U.S.
Motorcycles and Scooters
A two or three-wheeled vehicle might be an answer.
It is for many of the locals. You'll see lots of people riding around Cuenca on motorcycles or scooters of a wide variety of shapes, sizes and wheel configurations. A new motorcycle can be had for as little as a few thousand dollars, with scooters costing even less than that.
A special license is required to drive a gas-powered cycle, and a driving school like AConducir can help you get one. A license is not required to drive an electric powered bike. If you don't mind occasional rain, a motorbike of gas or electric power can be an economical form of private transportation.
Driving Is Harrowing for Most Expats
Nothing in your North American driving experience, even in Manhattan or L.A., will prepare you to drive in Cuenca. To avoid collisions, you must maintain triple, hyper alert status to react to the erratic, aggressive and competitive moves of other drivers, especially motorcyclists who respect no other vehicles rights of way or any sensible precautions. It feels sometimes like Cuenca drivers believe that theirs is the only vehicle on the road so anything goes without consequences. And that is generally a true statement from a legal standpoint because traffic laws are apparently unenforced and most drivers treat crosswalk lines, traffic signs and stop lights as mere suggestions.
Biking in Cuenca
A bicycle can be a great short distance mode of transport for those with a bit more stamina. Remember that it may take a bit of getting used to here because of the hills and lower concentration of oxygen at 7500 feet.
A Bike-friendly City 
Cuenca has an extensive system of dedicated bike lanes throughout the city. Called the Ciclovia, it makes biking a safe option. There is also a bike-sharing program called BiciCuenca that provides short-term rentals for a nominal fee. The Ciclovia system and BiciCuenca are both described in detail in this YapaTree article.
Note that parts of the city are hilly and will make for difficult biking. It's an uphill climb into the Centro from the area on the other side of the Rio Tomebamba, and the terrain from the Centro going north is all uphill.
Biking may be better suited for recreation than everyday point A to point B transportation, as the Ciclovia has miles of routes along the city's beautiful landscaped riverbanks and connecting its parks.
Wrapping Up
Many good ways to get around in Cuenca.
The great news for Cuenca retirees is the number of reliable and inexpensive options which can be used interchangeably depending on your needs in the moment.
Whatever your abilities, comfort requirements or budget, Cuenca offers a good mix of transport options that are cheaper than what expats are accustomed to.
Travelers can weigh the trade off between comfort and convenience when deciding between different options like walking, biking, the Tranvia, taxis or even using one's own vehicle. And there are free smartphone apps that make it easy to take taxis and buses.
So, happy trails everybody! Please share your intra-city transport tips and experiences below or in our Cuenca Facebook Group.
For more information on transportation and tips on living in Cuenca, sign up for the YapaTree newsletter.