The beauty of colonial architecture surrounded by rippling rocky rivers and mountain views whichever way you turn. A wealth of cultural and culinary offerings. Affordable, advanced health care. I suspect these qualities, along with a lower cost of living compared to the US, Canada or Europe, would rank among the top reasons so many expats choose to live in Cuenca. 
Perhaps less well understood, though, is the way Cuenca's network of public transportation options makes it easy and economical to get around the area and enjoy all these quality-of-life offerings in Cuenca. Expats, unless they have lived in a major city like those on the US east coast or Chicago, may have not had access to such extensive public transportation and more likely have relied on their own autos to get around. Even in the largest cities, many Americans find the idea of using public transportation to be out of their comfort zone.
It turns out the available options for getting around town are pretty diverse; biking, taxis and walking are excellent alternatives. This article is mainly a deep dive into Cuenca's buses and the Tranvia. We also offer a couple of suggestions on other modes of transport at the end.  
And for those who, like me, are experienced and comfortable with public transportation, Cuenca's bus and train networks are different enough from those in North America to be daunting. But while it admittedly takes a certain investment in time and education to be ready to ride Cuenca's Tranvía tram and buses, once you're oriented to these systems, I bet you'll find them surprisingly easy and convenient to use.  
Let's roll!
The Tranvía – Cuenca's 21st Century Tram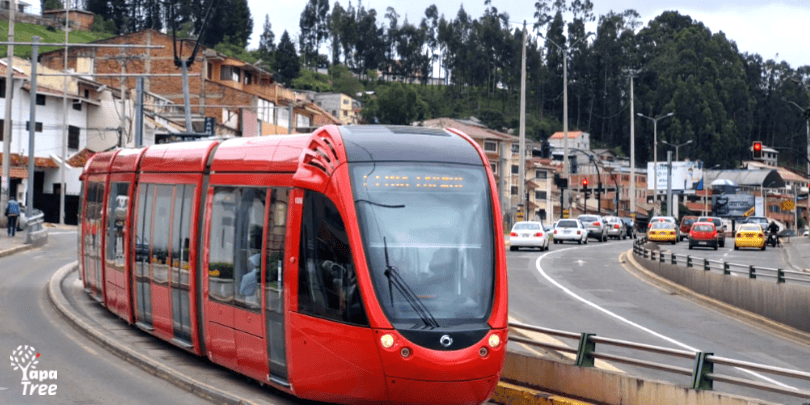 Without a doubt, the crown jewel of Cuenca's public transportation is the light rail tram called the Tranvía, which opened in September 2020. Just 6.6 miles (10.7 km) long, it stretches from the northeast corner of the city to the city's southwest edge and covers many of the destinations expats and native Cuencanos alike will want to visit. It also links to other forms of transportation like the intercity bus terminals and the airport. The trains, built by the French company Alstom SA (manufacturer of France's high-speed TGV trains and the Eurostar train connecting France with the UK via the "Chunnel") are clean, quiet, smooth-riding, and quick. Though they operate on city streets, they are given right-of-way over other vehicular traffic. Cuenca's Tranvía is one of some 1800 tram systems in operation around the world that were built by Alstom.
The Tranvía covers many of Cuenca's popular spots
Tranvía's eastern terminus is Parque Industrial, the home of a variety of manufacturing facilities. Parque Industrial is hardly a tourist attraction, but it's an important destination for the Cuencanos working there. Two stops away is the Aeropuerto station, right in front of the Mariscal Lamar International Airport. Just two blocks from the Aeropuerto station is Cuenca's Kywi store, a large and modern retailer similar to America's Home Depot chain.
Next stop westbound is the Terminal Terrestre, a hub for the many intercity buses that take passengers to destinations throughout Ecuador. The Terminal Terrestre is a sight to see on its own – busier by far than the airport down the street and filled with food vendors and shops alongside the tens of bus operators. The Chola Cuencana parada (Spanish for "stop" or "station")  – is a busy intersection of hotels and shops just a few blocks north of the Centro Municipal de Artesanias, a collection of artisans selling items of clothing, art, jewelry and more.
Route split: Gran Colombia or Mariscal Lamar
At the Chola Cuencana stop near the roundabout through which the major street Av Huyana Ca'pac passes, the Tranvía route splits into two lines as the tram travels quietly and unobtrusively through Cuenca's Centro Histórico. Westbound trains run mainly on Calle Mariscal Lamar, a block north of the eastbound trains traveling on Calle Gran Colombia. This splitting of the lines allows the trams to operate on the Centro's narrow, centuries-old streets while still allowing room for autos and pedestrians. To further minimize the distraction of these modern trains in this historic sector, the poles that draw electricity from overhead power lines over most of the route are lowered and the units run on battery power as they traverse the Centro.
The five Centro stops in each direction offer easy access to the many shops, restaurants, churches, banks and cultural attractions of the Centro, including stops directly across from the Mercado Nueve de Octubre and the Mercado Trés de Noviembre – almost right out front of the idiomART Creative Center (YapaTree's office is located here too). Though the route travels through the north side of the Centro, the Centro's southern half remains within easy walking distance of the Tranvía.
West of the Centro, the Tranvía serves several areas particularly popular with expats. The westbound track's stop at La Cuadra is close to the La Guarida restaurant and the Common Grounds Sports Bar and Grill. The eastbound and westbound tracks reunite at the intersection of Avenida Las Americas and Avenida Ordoñez Lasso, in the area frequently called "Gringolandia" for its American-styled high-rise apartments and businesses catering to expats. 
Traveling southwest from here, the tracks run side by side in the median of Av. Las Americas and serve some significant shopping and recreational areas. There's a stop at El Arenal – Cuenca's largest mercado. There, one can buy fresh fruits, vegetables, meats, and seafood; or enjoy an almuerzo at one of the many lunch counters. This huge open-air market is surrounded by busy shops in the blocks bordering it.
Farther southwest is the Río Yanuncay parada, a gateway to the Parque Lineal, a miles-long park of landscaped and wooded riverfront along one of Cuenca's four rivers. It includes biking/running trails, playgrounds and exercise facilities. Finally, the Río Tarqui parada – the western terminus of the Tranvía – serves two major retail stores. The Coral Centro is one of Cuenca's largest of this chain that may remind expats of Wal-Mart or Target; and Superstock is a store carrying a wide selection of groceries, furniture, small appliances, clothing and toys.
Tranvia operating hours
Tranvia trains operate every day of the week, from 5:50 am to 10 pm and are  spaced about 8 -10 minutes apart on weekdays and 15 minutes apart on weekends. There are digital signs at each station indicating when the next two trains in each direction will be arriving. If you really want to plan ahead, the Tranvía website provides live, real-time updates on the arrival times of the next two trains at each station.
The last trains of the day leave the terminuses at Parque Industrial and Rio Tarqui at 10 pm and arrive at the opposite ends of the line around 10:30 pm. So, if you are heading back home from, say, the Centro, and you arrive at a stop shortly after 10 pm, you'll probably be okay. Check one of the digital signs at the station that indicate to see when the next train in your direction is due. If the sign says "SERVICIO FINALIZADO" ("SERVICE COMPLETED"), you're too late and will have to find another way home.
How to ride the Tranvía
Fares may be purchased either as a single-ride ticket for one US dollar, or by presenting a Movilizate card that is linked to a pre-loaded balance. Single-ride tickets are sold from automated machines located at each of the Tranvía stations. The machines accept cash only and are valid for approximately 40 minutes. Movilizate cards are sold at five outlets:
Etapa office (Calle Gran Colombia and Calle Tarqui in the Centro)
Airport
Terminal Terrestre
Small office located in the underpass under Av. Las Americas at the Arenal Mercado
Centro de Compras at 9 de Octubre
Hours vary, but they are generally open weekdays during the business day. There is a small fee ($1.75) for purchasing the card, and purchasers can also add value (in any amount they like) at that time. Value can also be added (again, with cash only) at the machines found at each stop.
After boarding the train, a controller, dressed in the sporty Tranvía uniforms, will likely greet you with a friendly "Buenos Dias (or tardes or noches)" to ask to see your card or your ticket. The controller will scan the card or ticket with a small portable device that checks to see that a fare has been paid and records it as having been used. Each fare is good for only one ride and must be used within 40 minutes or it is forfeited. Your card won't be checked every time you ride. In my experience I seem to be asked for my card about 50-60% of the time. You don't want to take chances by failing to validate your card as you can be fined $127.50 for attempting to ride without paying. It seems the controllers are willing to give such riders other ways to settle up, like jumping off the train at the next stop and validating there, but I wouldn't risk a $127 fine just to save 17-35 cents.
While there is a substantial time commitment and a small financial investment in getting the Tranvía Movilizate card, the card entitles you to half-price fares – just 35 cents per ride, or 17 cents per ride for seniors 65+, 5–18-year-olds, persons with disabilities, or students. Children under age 5 are free.
Seniors and students purchase a special card carrying their photo (taken when they purchase the card). Seniors must present their cedula or passport as proof of age. There is also an option to buy packages of 5 rides to be used in a 15-day period. With those packages, the fares drop to 30 cents per ride (or 15 cents for seniors or students), but if the 5 rides are not all used in that 15-day period any balance is forfeited. Most will decide the savings isn't worth the risk of losing part of the balance.
Pssst – for a detailed list of savings for seniors over 65, check out our Tercera Edad article.
Validating the cards
There are two small card readers at each station that riders must use to validate their cards. These are separate from the large machines where balances can be added to cards. To validate a card for the immediate ride, place the card in the square indicated on the reader and hold it there until the screen above indicates that the fare has been charged and shows the remaining balance on the card. Adding value to a card is done on the large machines and requires a little dexterity. You must hold the card firmly against the card reader while you choose some options on a touch screen: select the operation you wish (check your balance, or recharge), indicate what type of currency you are putting into the machine (i.e., $1.00, $5.00. $10.00, $20.00 or coins), deposit your currency, and wait to see your new balance. It's a two-handed job, for sure.
The easiest thing about navigating the Tranvía is the fact that there is only one route (called L1), so there's little chance of getting on the wrong train, unless one gets on in the wrong direction. The destinations are shown on a digital sign on the lead car: eastbound trains are marked as "Parque Industrial" and the west/southwest-bound trains identified as "Rio Tarqui." Stops are announced on video monitors on the train and via audio announcements in Spanish. Just listen for the feminine voice saying "Esta parada es…." 
The monitors also show the next several stops in order so you can anticipate when you'll have to get off. The most complicated thing about finding your stops may be the split in the eastbound and westbound tracks between the Rio Tomebamba stop and the Chola Cuencana stops. If traveling to or from the Centro you won't be returning from exactly the same stop at which you boarded, in most cases, it will be about a block away. Check on a map or use the Moovit app (more on that below) to find the nearest stop.
Alternate names at 3 stops
One note on three stops that may confuse you (like they did me): These three stops are named differently on the onboard monitors than they are on the signs and route maps displayed at the stations, and on the onboard audio announcements. While the station signs and route maps and the recorded announcement list these stops as Hermano Miguel, Ordoñez Lasso, and El Arenal, the monitors call those stops Luis Cordero (a block and a half away from the Hermano Miguel stop), Calle del Arrayán ( a short residential street parallel to the much larger Av. Ordoñez Lasso) and Feria Libre (a name for the open-air section of El Arenal). It seems it would be easy to change the screen on board so that the stop names are presented consistently, but it is what it is. If traveling to one of those three stops, it's good to either remember the alternate names or pay attention to the preceding stop so you don't miss where you really want to go.
If you're starting within a short distance of a Tranvía stop, or don't mind walking as much as you need to get to the nearest one, the Tranvía is a clean, quiet and comfortable way to get to most of the places you might want to be in Cuenca.
But not all of those places. Read on to learn how the buses can get you to some important or popular places not served directly by the Tranvía.
Cuenca's 28 bus routes completely cover the city
As smartly planned as the Tranvía route is, it doesn't cover the south central or southeastern parts of the city. The nearest Tranvía stop is almost a mile from the Millenium Plaza Mall in the lively, restaurant-packed El Vergel area just south of the Centro. This section of the city is also home to the main campus of the University of Cuenca and the Santa Ines and Monte Sinai hospitals. The Mall del Rio, the area's largest shopping mall, is some 2.5 miles away. Here's where the extensive bus system is a good option for those wanting to economize on their local transportation costs.
Even for someone living close to the Tranvía, a more direct and faster route is often available by taking one of the city buses. For example, I was pleased to learn that I could take a bus directly from the Rio Yanuncay Tranvía stop close to my home that would take me directly to the University of Cuenca where I was taking Spanish lessons, or to the Santa Ines Hospital and medical office buildings, in about 20 minutes. There's a bus from the same Rio Yanuncay stop that goes to directly to the Mall del Rio as well.
Looking at the vast number of buses on the streets, the idea of taking a Cuenca bus can appear daunting at first. With the proper preparation, it's actually quite manageable.
Getting ready to take the bus – tickets!
Before you can take your first trip, you'll need a Movilizate card, issued by the local consortium SIR Cuenca. It looks the same as the Tranvía card, but it is a separate card with a separate cash balance. You can buy one at two of the same places where you can buy a Tranvía card: the Terminal Terrestre bus station, and the ETAPA office on Calle Gran Colombia and Calle Tarqui. You'll have to wait in separate lines at the ETAPA office and talk to a different agent for each card. Bus cards are also sold at the Department of Transportation on Los Capulies street. As with the Tranvía cards, there is a fee of $1.75 per card and you also have the opportunity to add cash value to your card in any amount.
Days or weeks later, when it's necessary to add further value to your bus card, you can do that one of the many tiendas that provide that service. Look for a sign at the storefront that says "Recarga Movilizate," and they will be able to help. Bus fares are slightly lower than those for the Tranvía – just 30 cents per ride for the general public and 15 cents per ride for the "prioridad" riders (seniors, 5–18-year-olds, students, and those with disabilities).
Planning your trip: The Moovit app
There seems to be only one practical way to plan your route on a bus – using the Moovit app. This free app is available in Google Play Store or Apple App store and is a godsend for planning a bus trip. You can request an itinerary by entering your start and end point and the time and day you want to leave or arrive at your destination. It will give you several options – and there typically are many of them, given the number of bus routes in Cuenca. Choose the one that meets your needs – whether that be scheduling concerns, minimizing walking, or avoiding transfers. 
Don't be shy – flap your arms about
You'll see the route number of the first bus you'll take. Click on the route you choose and you'll see walking directions and a map to the bus stop where you'll board your bus. Look for a sign that says "Parada." Most are blue and have a small bus icon. Sometimes there are shelters and often you'll see others waiting for the bus. Next is the tricky part. Buses will not stop automatically at every stop, so you have to look at the approaching buses for the route number, displayed on the digital screen above the bus's windshield. If this is the route you want, wave your arm out with the back of your hand facing up to let the driver know you want to board. If there are others waiting for the same route, they may be doing the same, which makes it easier for you.
Boarding and paying your fare
Have your card ready and board the bus quickly. The driver will take off once everyone is on board. When boarding a bus, you will see a card reader on your left at the top of the stairs. Place your card on the reader until you hear a recorded "gracias" and see your balance on the screen.
There is no cash option to pay your fare as there is with the Tranvía. No formal way, that is. There's an informal and very common practice for people without a card or without a sufficient balance on their card to ask another passenger to use their card and to reimburse that passenger for the 30-cent fare. Unlike the Tranvía card, which can only be used once per ride, a single bus card can be used for any number of passengers so this is a totally legal and accepted practice. You can also use your card to pay for traveling companions.
Just be careful if you're using a discounted fare ticket such as tercera edad (over 65) or a student card. These have reduced fares and are not transferrable. The fines for misusing a card are:
First offence: suspend your card
2nd offence: fine equal to 10% of the basic salary ($42.50 in 2022)
3rd offence: fine equal to 20% of the basic salary ($85 in 2022)
Completing your trip
If you know your way around Cuenca well enough to recognize landmarks along the way to your destination, that's great. You can be confident you're on the right bus. If you need some reassurance, though, Moovit has an excellent feature that shows you the list of stops along your route and where you are at any point. You will need to stay connected to the Internet for this real-time GPS tracking, but if your network is not connecting, most buses have Wi-Fi that is free for 30 minutes, and you can switch to that Wi-Fi network. There is generally a sign at the front of the bus, behind the driver, giving you the name of the network and the password. There is also a digital sign above the windshield listing the upcoming stop and the one after that, so you can follow along to confirm that you're on the right route.
When it's time to disembark, look for a button that you'll push to let the driver know you want to get off. There are buttons near the front and rear door, and it's preferable for you to leave via the back door to allow for boarding passengers to use the front door. When the bus stops, get off as quickly as you can as the driver will be looking to start moving again as soon as possible.
From here, follow Moovit's directions to get to your destination. You may have to transfer buses or simply walk to where you need to go.
Some caveats about the buses
While Cuenca's buses have the advantage of covering nearly every inch of the city within a reasonable walking distance as well as serving neighboring towns, they have disadvantages compared to alternatives like the Tranvía or cabs. The bus seats are not cushioned and the ride can be bumpy. The drivers keep a quick pace and make sharp turns that might rock you around a bit. Also, adherence to schedules is not as strict as you'll find with the Tranvía.
The buses have to navigate other traffic just like all the other vehicles on the streets – they don't have priority as the Tranvía does – and traffic can be unpredictable, so it's not always possible to stay on schedule. And sometimes, frustratingly, drivers simply will not stop even if properly hailed. If that happens, start over with Moovit to find the next route to your destination. It's good to allow extra time for your trip if you can, to allow for unexpected delays.
To be extra prepared, I recommend familiarizing yourself with your route in advance. Look at the maps on Moovit and on Google maps. You may even want to make some notes on your phone's notepad or on paper in case you can't connect to the Internet or your battery runs out of power while you're enroute. Once you've taken a particular trip once or twice, though, you'll be confident that you're on the right route.
Advantages of buses
As mentioned earlier, buses serve parts of Cuenca not served by the Tranvía (mainly the south side and neighboring towns like Baños, Tarqui or Ricaurte). In those cases, buses are the only option. But where the Tranvía takes you within a 10 minute or greater minute walk to your destination, the main advantage of taking a bus over a trip combining a Tranvía ride and a walk, is going to be time savings. For example, from my home near the Rio Yanuncay stop, if I'm going to the University of Cuenca, I could take the Tranvía to the Santo Domingo stop and walk 900 meters through the Centro to get to the University. Moovit says that trip will take about 29 minutes. Or, I can walk 5 minutes to a bus stop and take the L10 bus, which will get me to the University's front gate on Av. 12 de abril in 14 minutes, with minimal walking and saving about 10 minutes total travel time.
Why use public transportation
The beauty of Cuenca's extensive public transportation is that it allows such options. It's a compact and walkable city, with a 21st Century state-of-the-art light rail covering much of it, and an extensive bus system that fills in Tranvía's gaps. While some will opt to own a car and others will rely on cabs (also plentiful and economical in Cuenca), use of public transportation offers the chance to travel more cheaply, live like a local (and interact with native Cuencanos), and help keep the mountain air fresh. It's great to have these options of public transportation that make it easy to cheap to get around Cuenca and experience all it has to offer.
Other Resources
You may want to check out a few other resources in the following links for getting around Cuenca. Download the Azutaxi app for a quick way to bring a taxi to you without making a phone call.
If you haven't taken a Cuenca city bus tour, this one comes recommended.
Final Words
We hope this detailed article helps remove any lingering fears you may have about Cuenca's public transport options. The Tranvia and bus system can be a very cheap and easy way to see many of Cuenca's sights & just for general day-to-day living.
We'd love to hear your feedback below – especially if you have any suggestions that may help fellow readers understand their options.
Want more content like this? Sign up for our weekly newsletters here.