Ecuador's Next "Pueblo Mágico"
When I say that Limón Indanza is Ecuador's best-kept secret (and I do say that), it's not just because of the abundance of waterfalls, tender Amazonian steak, and profound jungle viewpoints… it's because the tourism there is yet to really kick off. Part of me wants to keep it a secret, to go by myself and enjoy the untapped potential, but it's not my way. I am a sharer, and I want to share Limón Indanza with you.
My love affair with Limón Indanza started when I was contacted by members of Limón's Municipal Tourism Department, who invited me to come on a four-day adventure and get to know the town. I immediately accepted and nervously awaited my itinerary.
Since very little written information exists in English about this town, I accepted the responsibility of compiling it, acting as a bridge between the English-speaking community in Cuenca, and the happy-go-lucky Limonenses who are keen and prepared for tourists.
In The Ultimate Guide to Limón Indanza, I will explore the accommodation, the activities, and the eateries, along the way demonstrating why I believe that this town is perfectly positioned to become Ecuador's 22nd "Pueblo Mágico".
This guide will evolve with each passing trip that I make to Limón Indanza, as I get deeper into the goings-on, forge more connections, and collect more comprehensive information. For that reason, I ask you to please bookmark this page, as it may look different the next time you visit. If you'd prefer to watch videos instead of reading, here's the full Youtube playlist for The Ultimate Guide to Limón Indanza.
What you're currently reading is VERSION TWO of the Ultimate Guide to Limón Indanza, after my second trip there recording videos and compiling new information. The reason for this second trip was ResFest 2022, the annual steak, craft beer, and rock festival. This place is a bag of surprises, right? You can watch the second trailer below.
What is This Guide?
Ximena Tenezaca – Yajanua Safari Photography
The most important contact or phone number you can get from this article, and the one person (other than me) who can connect you with everything (and do some of the legwork) is Ximena "Xime" Tenezaca.
Xime runs Yajanua Safari Photography and is part of Limón's municipal tourism team. She is in hot pursuit of making Limón the next most visitable destination in Ecuador and I admire her enthusiasm. I'm fully bought into her vision. While she doesn't speak much English, she will do her best with Google Translate and connect you to English-speaking guides. She is the spider at the center of Limon's web, binding everything together.
How to contact:
Getting to Limón Indanza!
In the first version of this guide, I totally forgot to tell you how to get there. Sorry about that!
As you can see, it's not far at all. The first time I went, we did it in under 2 hours, but there was zero traffic and the driver fancied himself as a bit of a Lewis Hamilton of the Andes.
Buseta – Best Way
I take a buseta, or a minivan. It's $15, it picks you up from your home in Cuenca, it's comfortable, and it will drop you off wherever you want in Limón Indanza. You can book via WhatsApp 2 days before your desired trip on ​​+593 99 623 4597.
Bus to Macas
Limón Indanza is seen by many Ecuadoreans as a 'passing town', with the main road to Sucua and Macas passing right through it. Buses to Macas leave from Cuenca's terminal terrestre six times per day, with a cost of $6-7 one way.
You can revise the timetable here, however, if you know Cuenca and the local allergy to keeping accurate information on the internet, you'll want to go in person and hunt down the latest times yourself.
Drive there
If you have a car, you can just drive there. Lucky you, car owner!
Book a private tour
I'm currently chatting to a new tourism startup in Limón Indanza and they will be offering day trips to Limón, with transport from Cuenca included. I don't have any more information at this time, but you can be sure I'll add it when I do!
Now, if you're anything like me, you'll want your accommodation sorted out before you go, so let's continue.
Where to Stay in Limón Indanza?
Buglas House
Fabricio and his family took the bold decision during the pandemic to move from Limón Indanza town center up the mountain to Buglas house. Originally a small two-story building that was as ancient as the landscape, they expanded both floors, creating a wooden wrap-around terrace with unrivaled views on all sides. In addition, they created a large communal building of stone and wood, with plenty of seating and bathrooms, impressive views, and a hall for dining and social activities.
The premise of Buglas House is that it's a birding paradise. A stay here comes with birdwatching included, with Fabricio himself rising at the crack of dawn to take visitors and their binoculars through the cloud forest to several strategic spots. At the foot of the property is a viewpoint to observe Gallinas de la Peña, rare orange-headed birds that have chosen a couple of particular trees to nest, mate, and perform their ritual courting dances.
Photo of room:
How to contact:
Kaya Lodge
On a dark night after a delicious steak at Ñatos, my driver, Leo, drove me along a bumpy road into the unknown. After around 10 minutes we pulled up outside an incredible gated property, with beautiful bungalows and a swimming pool. In the darkness, I couldn't truly appreciate the delight of the place, but after a restful sleep, I pulled the curtains and my jaw dropped. Located in a bowl of lush, covered mountains, Kaya Lodge is a slice of modernity, a fully-equipped top-quality lodge, surrounded by harsh nature and abrupt foliage.
Hilda, Hugo, and Jhoana, the Samaniego-Delgado family are part Cuencano, part Limonense, and split their time between the two. I hope to be fortunate enough to do the same once I find some suitable land to build on. Not only have they found balance in their personal lives, but they've found a balance between old and new, development and sustainability, and nature and habitation. Just one minute from the property and you are entangled with wild nature on ancient senderos (hikes), hopping rocks up the river to natural bathing pools, or grappling vines as you descend to their own personal canyon.
For those looking for a wild escape with phenomenal hikes, but with luxury accommodations and services, Kaya Lodge is ideal.
Photo of room:
How to Contact
WhatsApp (Jhoana Delgado): +593 98 517 0114
Casa Jara
Please note: Casa Jara is fully booked throughout December 2022 and January 2023.
Positioned right at the entrance of Limón Indanza, just after the first bridge, Daniel Jara has converted his family home into Casa Jara, a new Bed & Breakfast for visitors. Daniel, who is Limonense and wears the tattoos of several petroglyphs on his arm, is a warm character who will happily welcome you with his homemade lemonade (along with the relevant story of how the town got its name).
Casa Jara is a work-in-progress that opened in 2022. There are several internal projects going on, including making direct access to the river and creating an internal green space for guests to relax in. The room was very comfortable and I slept like a dream. The Wi-Fi was fast, all of the sockets worked, and there was hot water in the bathroom. What I liked best was the sound of the river, backing right onto the property, and how I could walk to the central plaza in just a few minutes.
Photos of room: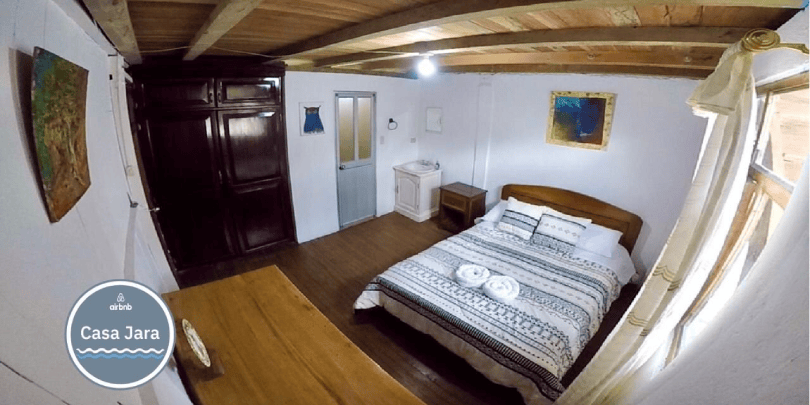 How to contact
Daniel Jara via Facebook
WhatsApp: +593 98-790-4826 or +593 98-808-3595
The following 3 places are old-school traditional establishments that you might struggle to find any information about online. I had to go there in person to get prices and other information. You're welcome 🙂
Joya Limonense
Honestly, because none of the hotels here are on Airbnb or Booking.com, I actually genuinely thought there were no hotels, until Ximena said "What the heck are you talking about!". It's hard to miss Joya Limonense Hotel, it's huge, green, and right on the corner of the square. The corner rooms in the hotel are epic, with great balconies offering a view of the park and the mountains!
The twin room with the terrace you see in the window should really be converted into a luxury suite for couples – jus' sayin'. There's a mix of double, twin, and triple rooms available.
2023 price list
$15 per person with en-suite rooms
$12 per person for rooms without a bathroom
Book by contacting Maria on: +593982985092
Hotel Los Tayos
Located a block away from the central square in a nice quiet street in front of the BanEcuador Bank, you'll find Hotel Los Tayos, probably the most well-equipped hotel in Limón Indanza. All rooms have a fan and a tv, perfect for chilling out after a hot day in the jungle sun having fun in the best town in Ecuador! (IMO).
2023 Price list
There are 24 rooms, a combination of:
Matrimonials: $15 for 1 person, $25 for 2
Twin rooms: $10 per person
Triple rooms: $10 per person
Family rooms: $10 per person
On the downside, communications with the owner are a little difficult, even I struggled to understand him over the phone. However, he said with 24 rooms, you don't really need to book in advance, just turn up and see what he has available. This is old school. Wanna try the phone anyway? You'd better be advanced at Spanish: +59372770265
Hostal Stefan's
Best Budget Pick for 2023
Slap bang in the centre of Limón Indanza you'll find Hostal Stephan's – you can't miss it! It's big, red and white, and has a clothes shop and bar underneath, and is right opposite Café Florencia. For my future trips to Limón Indanza, this is my hotel of choice. Clean, central, and with a very friendly and communicative owner called Fani.
2023 Price List
4 matrimonial rooms with a private bathroom 1 person $15 / 2 people $20
4 twin rooms with a private bathroom $10 per person
3 twin rooms no bathroom $7 per person
Book via Fani Puni: +593939937647 – she's very responsive.
Of the three budget hotels in Limón Indanza (Stefan, Joya Limonense, Hotel Los Tayos) – I think Hostal Stephan's is my favourite.
Things to do in Limón Indanza
Street Art Walk in Limón Town Centre
On my first-ever stroll into the center of Limón Indanza, Ximena introduced me to two friends, Paul Castro (Raspa) and Edison Peñaranda. Both are local artists who have recently embarked on a positive street art project to paint incredible murals of the local birdlife, as well as painting lamp posts with plants, birds, Shuar people, and the petroglyphs the town is well known for (more on that in the "Discover the Petroglyphs in Catazho" section).
I was highly impressed with how colorful, beautiful, and creative the artwork was, truly transforming the town center into a more friendly and vibrant space. It is a work in progress, with more and more murals popping up all over town as the local artist community aims to (whether consciously or not) help make Limón the next Pueblo Mágico in Ecuador.
Learn more about this project (video in Spanish).
Cerro Bosco – Best Viewpoint in Limón?
About a 30-minute drive from Limón is a cloud forest called Cerro Bosco. After a short hike along a well-marked path, you'll find yourself at a viewing platform well above the clouds, with stunning landscapes on both sides. Looking east, the vegetation gets more jungly as the slopes head towards the Amazon, while on the other side, it appears drier and more Andean, as you might be accustomed to around Cuenca.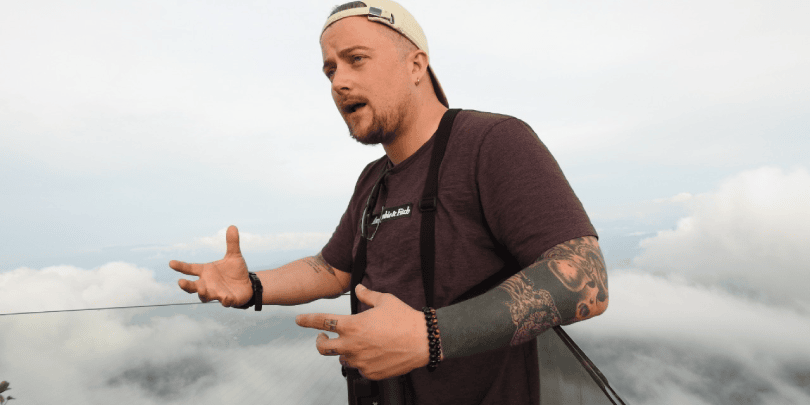 My tour guide, Manuel, told me that while it's rare to see animals here, there is every possibility of crossing paths with a puma, jaguar, snake, tapir, and more. That being said, he's the local ranger and in all his years of experience, he has only seen 3 snakes and is yet to see a puma. There are night cameras fixed to some of the trees here; one of them recently picked up a brilliant shot of a jaguar eating an armadillo, which eventually made its way onto the national news!
Whilst at Cerro Bosco, I met Patricio Estrella, manager of the famous Tayos Expeditions.
Discover the Petroglphys in Catazho!
The local expert on the petroglyphs of Catazho is none other than the President of Indanza (a neighboring town, not to be confused with Limón Indanza). What's more impressive is that Julio Quiroga became President at just 26 years old and you will see why. He's friendly, knowledgeable, and has an air of authority about him. He's a great communicator, well-studied in local history, and keen to propel tourism in the area forward. I warmed to him immediately.
The petroglyphs are something of a mystery. Numerous archaeologists have come and gone, all with different results and understanding. Some say the etchings are 5,000 years old, others say 7,000. What one person says is a symbol for women, others say is the head of a ram. One man's frog is another man's monkey. I think, and this is just my opinion, that the subjective nature of the petroglyphs is actually the key to their charm. The unknowing is something quite beautiful, these mysterious relics and messages left behind by an ancient civilization. Ultimately, they could simply be the work of bored children.
Contact Julio via Facebook to book a tour
Get a personal photographer for the day with Safari Fotografico!
Downhill Mountain Biking
Between Indanza (a neighboring town) and Campo Alegre (see the following section), there is a huge valley to descend. This is where I enjoyed my first taste of downhill mountain biking in Ecuador. Just as we started the descent in the truck, my guides said "Joseph, fancy riding down?" and well, as scary as that seemed, a bit of adrenaline was going to do me good! We returned to town in a few minutes and Julio Quiroga, President of Indanza, lent me his bicycle.
The road was pretty good and smooth, so I didn't feel like I was going to fall off, but what did surprise me was how steep it could get, and the brakes were not 100%. I will be honest, at times my knuckles were white as I clenched the brakes. Fortunately, it was great fun, I didn't fall, and by the time we reached the bottom I was full of confidence and bunny hopping with the bike!
There are different routes for mountain biking, but it's best to talk to a local about the best place to rent a bike and which trails are safest.
Campo Alegre – Rope Swings & Relaxation
Easily one of the most special places I've visited in Ecuador. You descend a valley, pass ancient petroglyphs, and cross a zipline in order to reach a natural bend in the river, where there's a cookout spot, big flat rocks to sunbathe on, and rope swings to fling yourself into the river (if you're brave enough). The water is mostly shallow enough to walk and is very clean and fresh.
Just a word of advice – don't underestimate the current. It is strong, and if you're not a confident swimmer, or you enter the river where the current is fast and water is deeper, you might find yourself being nervously washed away. Worst-case scenario, you might end up crashing into a big rock, so be sure to survey the water first, and also check that it's deep enough to jump into with the rope swing. The best way to visit is with a local, and to order a lunch delivery (yes, they will come all the way there to bring lunch!) so that you're safe and fed.
Visit Bella Vista Mirador
Just 15-20 minutes outside of Limón Indanza, you'll find Catalina Tigre and her stunning 'Bella Vista' mirador, with viewing platforms, swings, and a stairway to heaven. Also, if you love animals, there are ducks, chickens, guinea fowl, lambs, dogs, and cows to enjoy! Unfortunately, there are some other animals lurking nearby too…
As you'll hear in the video, Catalina recently lost a dog and a cow to a hungry Jaguar! It's an incredible story, but it means she's fallen on harder times, and so all visitors are highly valued. She makes great coffee, humitas, and canelazo, and you can give a few dollars to help her out and enjoy what she's built on her land. She also sells orchids that she grows herself.
What I love most is that this feels like the cumbre, or summit of a mountain, but with two completely different ecosystems on either side. Behind her house, as you can see in the video, it's clearly jungle, but in front, the big view, that's the Andes. So her home is where two worlds collide, and it's stunning to see.
Go Birding at Buglas! (See Gallinas de la Peña)
For any birder or ornithologist, this is a MUST-DO in Limón Indanza. You'll either stay the night there or arrive super early to enjoy the sunrise and watch all kinds of tropical and migratory birds do their thing. It's best to contact Fabricio in advance to let him know you're coming. He speaks functional English for birding and bookings.
Please refer to Buglas House under accommodation to watch the video and find out more.
Contact Buglas
Visit the Cascadas de Chiviaza (Waterfalls)
Chiviaza waterfalls are a real highlight of Limón for me. There's something so magical and refreshing about sitting under the cascading water, it really feels so cleansing! What's great about Chiviaza is that it's a series of waterfalls and you can choose whichever one works for you. If you want a shallow pool to bathe in, a watering hole to jump into from great heights, or an enormous waterfall to sit and gaze at, you'll find the waterfall for you at Chiviaza!
Sugar Cane Alcohol Workshop & Petroglyphs in Chiviaza!
This trip wasn't on my initial itinerary, it was an impromptu visit. Fortunately, the involved parties, Dario and Geovanny, just happened to be free. We called in on Dario and he guided us up to Geovanny's finca, where he has spent many years perfecting his moonshine recipe. I call it moonshine, because it is homemade aguardiente or brandy. It goes by many names here, punta, trago, or simply licor.
Finding out how strong the alcohol seems to involve scientific calculations that I am not qualified to make, but if I had to guess, based on the strength and my experiences drinking raki in Albania and tatry caj in Slovakia, I'd put it anywhere between 60% and 80% alcohol.
The best part is the mapanagua, a mix of the licor with freshly squeezed mandarin lemons (native to the area), and sugar cane juice (guarapo). What makes it so good is that you get to squeeze the cane juice yourself, as you can see in the picture above. This involved an old mill called a trapiche, and a huge rotating stick that you have to push to crunch the cane and reveal the juice. This show is for tourists only, modern moonshiners use an electric motor.
To organize this workshop, please contact Dario.
ResFest: Annual Steak, Craft Beer, and Rock Festival
Thank you to Ximena Teneseca and Mayor Erik Paco Bustamente for driving this event and making the third edition of ResFest Limón Indanza an unforgettable spectacle.
I didn't catch any of the evening activities, including Bajos Sueños, one of Ecuador's most famous metal bands. Instead, I went back to Casa Jara and safely stored my camera so that a drunken Capture Joseph would not lose it. Fortunately, I caught most of the daytime activities, as you can see in this video.
I stuffed my fat face all day, eating rib at Lucho's, steaks with I Am Paco (the mayor), an incredible steak and mashed potato with veg and mushroom cream sauce at Bijao, and a crazy burger late at night at Anubis.
One of the best days I've had in Ecuador. Incredible. ResFest is held annually during the Ferias de Limón Indanza, the first week of every December.
Best Restaurants & Cafés in Limón Indanza
Finding the best grubs
Excuse the pun, but once you've devoured seven 2-inch jungle slugs and lived to tell the story, you've earned the right to make grub jokes. The truth of the matter is, grubs, or what they called Chontacuros or Mukint (mu-kin-teh), are actually quite delicious, healthy, and once you get past it being an insect, enjoyable. I became accustomed to eating insects when living in Asia, so I don't fear the chontacuro, I embrace it. I invite you to do the same. At least give it a try, that's the beauty of exploring the Amazon, it's a privilege to be here, so far from the western world, and so breaking our comfort zones is a must.
Bijao
I entered Bijao as the sun set in a spectacular show of light and color, which continued into a deep purple and red darkness. By the time I was finished enjoying the sunset, Xime had already ordered our dinner, and Robinson, Bijao's friendly owner, was preparing a drink for me. The drink in question… sugar cane moonshine (punta) with palm worms (chontacuros). At first glance, I was a little horrified, but I've eaten these beasts before and I've drank this 80-proof heavy bathbooze quite a few times. It takes more than that to truly scare me.
The menu was delicious. We started with a mix of chontacuros, patacones (fried plantain), peppers, and onions, whilst throwing back shots of the aforementioned liquor. Next came the main, breaded frog legs in a creamy sauce. Again, I'm not afraid of unusual foods, but I must remark that the taste of frogs is bizarre. It looks like chicken and tastes like chicken, but it has thing strange aftertaste that is difficult to describe. Bijao's kitchen did a fabulous job on both dishes.
The log fire in the garden was an added bonus.
Anubis Winery*
*Anubis has moved to Calle Quito, one street above its previously location. This is a 1-year move while they renovate the previous premises.
About 7 years ago, after a long stint living and working as a chef in the US, Jorge Peña decided to come back to Limón and open Anubis. Top-quality meats, local beers, and a Tex-Mex menu were all a huge hit in the town, where only local food vendors existed. He started with a tiny restaurant and three tables, but the immense popularity of his enthusiasm and cuisine helped him expand into the brilliant space Anubis now hosts. One of the few English speakers I met in Limón, Jorge is as funny as he is likable. His charm and generosity resonate though and are obvious indicators of why Anubis' path to success is as it is.
The Tomahawk steak, which was bigger than my head and required the help of friends and serious effort to demolish, was among the best steaks I've had in my life. In fact, as I posted on Instagram that I was at Anubis in Limón Indanza, several friends who have visited before told me I had to order the Tomahawk at Anubis. The universe was telling me something! Now I'm telling you, this is unmissable for your next trip to Limón Indanza. Local cuisine is a bag of surprises!
Anubis is the only place in Limón that has Golden Prague beer on tap. Whilst you won't be able to use your YapaTree card there, you can go straight to the source and visit Golden Prague in Cuenca, Guayaquil, or the Galapagos.
Ñatos Smoke & Grill House*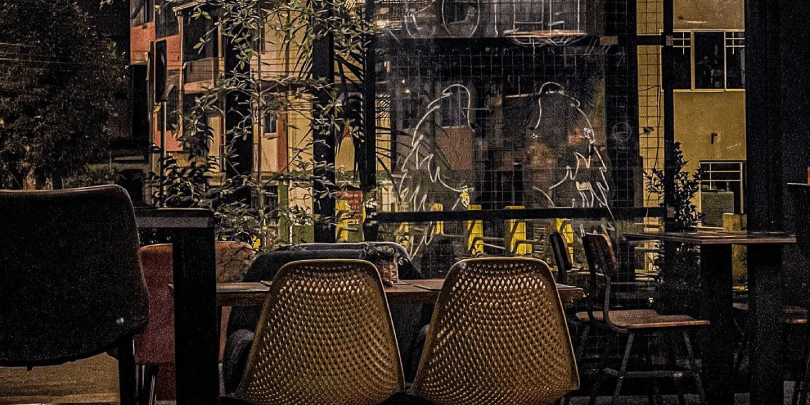 Just as you come into town (from Cuenca's direction), you'll find Ñatos situated on the left-hand side. As I write this, the owner, Julio Tenesaca, and his family are mid-way through construction on building a much larger and more accommodating space. This new space will be ideal for concerts, more guests, and a bigger and better atmosphere. To magnify the already-gratifying experience will be something to behold, so I eagerly await the grand opening, as, I imagine, do many Limonenses.
The food was an absolute delight, especially as we were wet (from the rain and waterfall), exhausted (from incredible experiences around Limón and Chiviaza), and hungry (I was born hungry). We had the enormous mixed grill tablita which came with far too much food for one person, and ended up being shared by 4, although I ate most of the steak!
*Ñatos has moved one door away from its previously location. You can't miss it, it's absolutely gorgeous!! See here.
Caury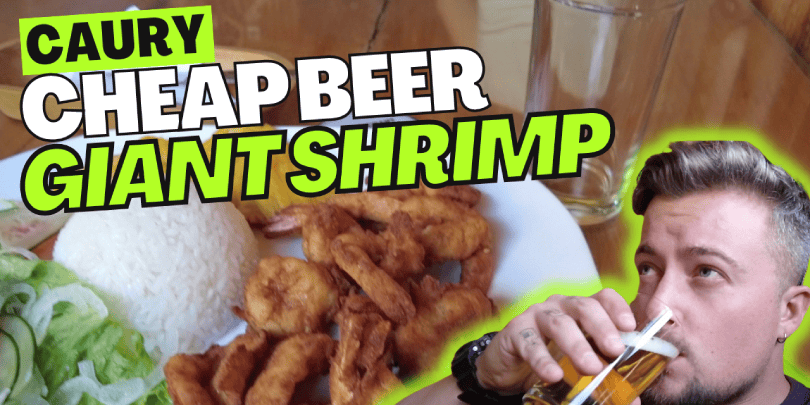 After all of the delicious food and glowing recommendations for Natos, Anubis, and Bijao, I was curious to see what other yummy restaurants in Limón Indanza were there to be found. I wasn't disappointed by Caury! Far more local than the other three, this has all the feelings of a jungle pub, with wholesome food, cheap cold beer, and fans whirring away. I had the camarones apanados (breaded shrimp) – they were huge and only $8!
Caury is on Instagram.
Café Florencia
In the Parque Central de Limón Indanza, right in the middle of town, there is one prominent café looking right at the trees and green space. Café Florencia is the obvious choice for breakfast in town, offering freshly baked bread and cakes, scrambled eggs whipped up on demand, cappuccinos and other frothy coffees, and a full food menu with things like fajitas on it.
Outdoor seating allows you to enjoy not only the park, but all of the beautiful murals that have been painted around Limón to beautify the town and provide symbolic references to their culture, which is heavily entwined with birds, plants, fruit, and nature. Murals of indigenous Shuar people can be found, as can huge artworks depicting local birds. As you'll see in the video, there's also the most handsome fluffy dog called Crash wandering around. He does have an owner and is very friendly, but very independent!
You won't find Café Florencia on social media. This is a place you just need to turn up to and enjoy.
AB Market
I spent another beautiful night at Kaya Lodge, before waking up around 6am to take a beautiful 2-hour river hike and bathe in a natural pool formed by a waterfall. After that moment of perfect tranquility, I turned back, packed by stuff, and headed into town with Hilda and Jhoana.
Hilda was keen to show me her niece's business, AB Market, a café-store / one-stop-shop for everything you could possibly need in Limón Indanza. I was thrilled to see a top-quality coffee machine and so I ordered a cappuccino! Whilst there were waffles, ice creams, plenty of booze and more, I settled for a delicious piece of chocolate cake! It's called self-care :p
Sabores Ecuatorianos
After spending the night at Casa Jara, I decided to turn right and walk down the street until I found somewhere I could have breakfast. I wasn't even 8am at the time of recording, but Sabores Ecuatorianos was open and ready to serve! I got the complete – coffee, eggs, bread (juice is included too but I didn't want any). Just $2.25.
Sabores Ecuatorianos is right by the Mixto pickup point near the terminal on the main road that passes through town. If you get to the Ecuavolley pitch, you've gone too far.
Cuy de Mami América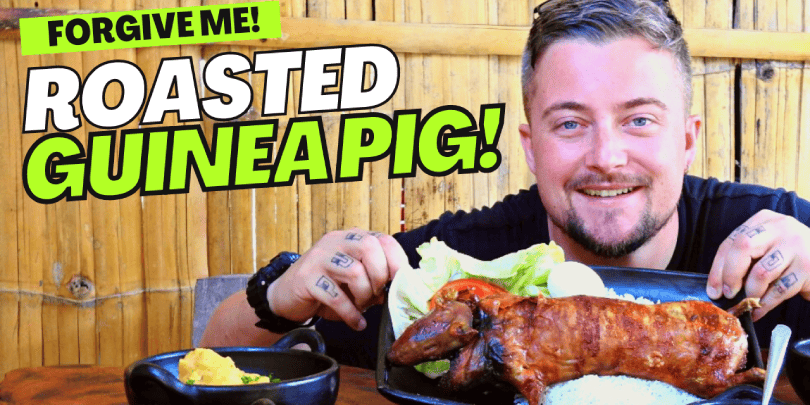 After visiting the waterfalls of Chiviaza, we headed into Chiviaza village for a little surprise. Cuy de Mami América is a very local, very traditional open-air restaurant in Chiviaza, and they were kind enough to surprise and present me with a roasted guinea pig! This isn't my first time eating Cuy (it was my fourth), but whilst I'm not a huge fan of the meat, I was pleasantly surprised. It was very nicely cooked and all of the extras it was served with were absolutely delicious.
Visit Matvil and Learn About Limon's Craft Beer Scene
I was invited out of the storm and into Matvil by Santiago Marín, the brewery manager. Just a few kilometers outside of Limón Indanza, with one of the most breathtaking viewpoints you could imagine, a huge pool, an epic menu, and an on-site craft beer production facility, this is one of the coolest places to visit on your trip. Santiago is just as cool, an ultra-friendly and likable character who is passionate about great beer and good vibes.
Grab a mixto (truck-taxi) from Limón Indanza and take the trip to Matvil, where you'll be greeted by their two local craft beers, a 4.5% blonde and a 5.5% stout. Both are DELICIOUS.
WhatsApp: +593 99 484 4822
Testimonials!
My good friend Jason Scott, AKA Mr Yapa Tree, spotted another post on Facebook from a foreigner about Limón Indanza and put me in touch. I wanted to know if everything was smooth, if they had a great time, and if I could uncover any new information from them (they did tell me about an accommodation option I'd never heard of, woo!).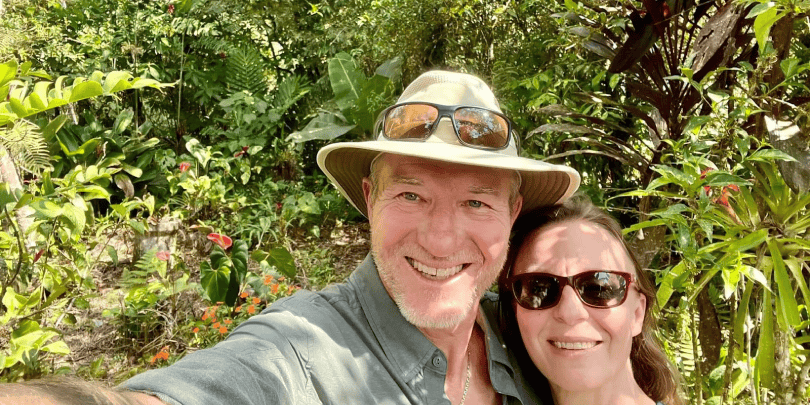 Erin and her husband went with their friend Patrick Mundo, a very well-known Belgian photographer who has been coming back and forth from Cuenca to Limón Indanza for years. Here's what Erin told me:
"We stayed at three different lodges, spent a morning birdwatching, ate some fantastic food, met lovely locals willing to share their knowledge, skills and their properties with us (some of the best experiences were thanks to these folks), and of course we took in as much of the beautiful landscape as we could."
"We ate at Matvil, Ñatos (brand new location opened very recently) and Bijao (great vibe, amazing family, exceptional cocktails and food). The Matvil crew was hand-trimming labels to stick on the bottled beers we purchased. Patrick said they've purchased a machine but it's it in service yet. They just started bottling beer, having previously only sold on draft. Have you visited the distillery/brewery recently? Great burger, Belgian blonde and stout. Repasado rum was pretty decent too."
"We have friends coming from the states next year and cannot wait to share Limón with them! Warm weather, warm people. We have been home about 5 hours and are talking about going back. If we can't manage to wait until our friends come, we may see you there soon!"
Verdict: Obviously the next Pueblo Mágico!
If it isn't clear by now, Limón Indanza is on the path to becoming not only a Pueblo Mágico, but a super-hot tourist destination. Because it sits right on the border of the Amazon-Andean region, it gets the warm climate of the jungle, with the breeze of the cordillera. It's an incredible climate, drier than most of the rainforest.
Remember, this is an evolving piece of content. We're going to update it. Every time I take a trip, I'll be making more videos, forging new connections, and making more notes. I've already got my next trip booked, which means more accommodation, more restaurants, and more activities. I want you to visit, so if you have any questions, reach out to me directly via email [email protected], via Instagram, or on Facebook or in the Cuenca Yapas & Friends Facebook Group.