One of the inevitable developments for many of us as we "gain maturity" (i.e., become "viejitos") is the onset of different, chronic, health conditions that require regular treatment with medication and supplements. The focus of this article is how to obtain those economically and even how to obtain expensive drugs like newer insulins at no charge.
If you take a moderate to long list of different meds or even just one or two expensive name brands, this article is for you.
The happy news is that living in Ecuador, with a foot in the U.S, opens up a variety of cost-saving alternatives. The other side of the coin is that to minimize the costs of medications, you need to do some research across numerous sources.
I save around $350 per month using these alternatives.
And surprise: my research shows that it is often cheaper and more convenient to get those meds and supplements from the U.S.*
Ready to start saving on your meds? Let's go.
Understanding Insurance Models
Many expats arrive from the US with a med purchase mindset based on the co-pay, deductible model delivered by the U.S.'s commercial health insurance and Medicare Drug Coverage. New expats tend to learn pretty quickly that private insurance in Ecuador uses a similar model.
One important distinction between the two types of meds insurance is the treatment of pre-existing conditions. Coverage of meds for pre-existing conditions is the rule with U.S. health insurance. But in the first few years of a private Ecuadorian insurance policy, meds and other treatments for pre-existing conditions are very limited. So, you may end up paying the full retail price in Ecuador for your meds, at least for a few years. There are also international healthcare insurance plans which I am told are worth exploring. Regardless, I encourage you to investigate your meds cost options under these different insurance plans.
Medicare Part D Drug Coverage may save you money too, although you can generally only use it in the U.S. If you now pay for private U.S. health insurance or Medicare Part D coverage, you already know your premiums and copays to use in meds cost comparisons. Here is a great, official resource on this subject. Medicare Part D Drug Coverage document.
Before you tell yourself that Medicare Part D won't help you because you live in Ecuador, take a deep breath, suspend your disbelief and keep reading. Because there are reliable and cost-effective ways to get your U.S.-purchased meds to you in Cuenca.
Handy Hint: Medicare Advantage with Zero Premium Part D Drug Coverage
I am covered under a Medicare Advantage Plan that provides Part D Drug Coverage for a zero premium! I pay $171 per month for Parts A and B with a PPO Medicare Advantage Plan.
This Advantage plan covers meds purchased in the US without requiring a separate, additional Part D plan or premium. In fact, whereas most Advantage plans require you to live in the US mostly full time, this one permits you to receive care in the US as well as Drug coverage for US- purchased meds even if you live full time outside the US. Contact your Medicare rep for details.
Retail Meds: Ecuador vs. U.S.
On arriving in Ecuador, gringos learn that what they call "prescription meds" are available without a prescription here. This is a huge cost and time save for frequent meds buyers.
We also hear that generic and name brand meds cost less at retail in Ecuador than in the U.S. For example, prices of more advanced insulins like Soliqua (available only at bigger chains and hospital pharmacies) can be 7-10 times lower than U.S. Retail prices. Fast-acting insulin such as NovoRapid is priced very reasonably here by retailers. And depending on your dosage and coverage, it can be cheaper and more convenient to pay the Ecuador retail price for insulin than to get it under health insurance.
There are, however, important exceptions to the "Meds are cheaper in Ecuador" rule.
For example, let's look at insulin again. Medicare says that a full ⅓ of its members are diabetic. That means there are probably thousands of diabetic U.S. expats in Cuenca, a fair percentage of which require insulin to survive. So, a new Medicare Part D program lowers insulin costs dramatically and may change your equation dramatically too. Check the link below for more on this and in the Medicare Part D Drug Coverage Booklet
Also, some U.S. states, like Illinois and Colorado, have set a maximum $100 per month limit per insurance co-pay that may improve your pricing equation substantially. But be aware that these limits generally apply only if you are covered by U.S. health insurance and may not provide for more than 30 days supply at a time.
Another exception to the rule is exemplified by "head meds" and other specialty drugs. For example, generic Cymbalta is much less expensive through discount U.S. pharmacies than in Ecuador pharmacies.
Yet another exception to the "Meds are cheaper in Ecuador" rule is that online pharmacies like heatlhwarehouse.com and other U.S. pharmacies offer much better prices through substantial discounts for larger quantities and will dispense up to 180 days' worth when prescribed by your U.S. doctor. Their website is very easy to use with super clear volume pricing and excellent customer service by phone and chat. And they will ship anywhere in the U.S. By comparison, in Ecuador, you pay a fixed price per dose regardless of the quantity purchased whether you buy in person or online.
Also, there are retail-priced meds like Wellbutrin for which only the name brand versions are available in Ecuador, making retail U.S. generic versions a much less expensive option.
For short-term, irregular needs, the many, conveniently located pharmacies are a good option. And you can't beat the 24 hour availability at Hospital Pharmacies like Monte Sinai, Santa Ana and Del Rio. Read about navigating the pharmacies and related topics in this informative YapaTree article: How To Acquire Your Basic Over-The-Counter Medication Needs In Ecuador
Ecuador Pharmacies and Discounts
CORPDEFSA
CORPDEFSA is a Cuenca-based, small group of pharmacies offering discounts of 10-30% below chain retail prices. But I have been unable to find a website. So, I have been unable to find prices, a list of meds stocked, or even an accurate list of their locations with opening hours. Also, there is always a considerable wait to talk to a pharmacist or to place an order at the 2 locations I have visited. So, not a great option in my opinion.
Fybeca & other large pharmacy chains
On the other hand, the big chains like Fybeca and Pharmacy Farmacia run 20% discount meds sales periodically which can make them a better value than CORPSDEFSA; and they are much more convenient to use in every way. Subscribe to their discount plans and you may receive electronic announcements about their sales.
But be aware that taking advantage of these chains' discounts can present challenges. For instance, the sales require that you purchase your meds during the few days the discounts are offered which may not align with your supply needs or cash flow limitations. And they may require you to purchase online vs. at a physical location, depending on which channel offers the discount. And one channel may not honor the other channel's discount.
Another challenge to using local pharmacies of either channel, as the earlier YapaTree article mentions, is that meds have different names in Spanish. So, you need to handle the transaction in Spanish using local medication names and/or have a facilitator's help.
And there is a 25-50% chance that your pharmacy location or its online counterpart will not have your medicine in stock, in which case you need to find another source or ask the counter person to transfer the meds in from another one of their locations – and only if you pay for it on the spot and promise to return later.
Online Ecuador Pharmacies
The experience when buying anything online in Ecuador can be less than ideal. Online pharmacies are no different. It took me many attempts to get the hang of one in particular because of different drug names, confusing design, missing information, difficult checkout restrictions, and delivery mistakes. My Ecuadorian credit card worked, but my debit card did not. I can't divulge which one this was at because of Ecuador's strict libel laws.
In the end, the biggest advantage I have found to online Ecuador pharmacies is that they publish prices to use in my price comparisons but are not helpful for regular meds purchases. Two I have used are fybeca.com and pharmacys.com.
IESS Pharmacies – Easy No for Me
One promise to subscribers made by IESS, Ecuador's Health and Social Security System, is that meds on its formulary are freely available by IESS doctor prescription for no additional cost. Pharmacies are located in IESS hospitals, clinics and contracted provider practices.
My personal experience is that this promise is generally unfulfilled. So, I gave up on IESS pharmacies after years of disappointing results and am a much happier camper.
IESS Pharmacy Challenges:
1. Hard to access
The IESS formulary is difficult to find, requires knowledge of the non brand equivalent names of your meds in Spanish, and omits many important meds prescribed by IESS doc and by private physicians so there is a good chance that your advanced med (like modern insulin) is not included.
2. Stocking issues
The most commonly prescribed meds can be out of stock for weeks and months at a time requiring a lot of return trips to obtain the benefit.
3. 30 days max supply
Meds are only dispensed in 30-day quantities, meaning each month's supply requires another doctor's appointment. This is an absurd waste of everybody's time for those taking the same meds repeatedly. I have asked 7 or 8 IESS doctors about a 90-day supply and none have offered a solution. If you have a reliable solution, please share it in the comments!
There are understandable socioeconomic and political explanations for all these IESS meds problems but I will stay away from those explanations and remain focused on our needs as healthcare consumers.
U.S. Cost-Saving Methods (Powerful & Unconventional)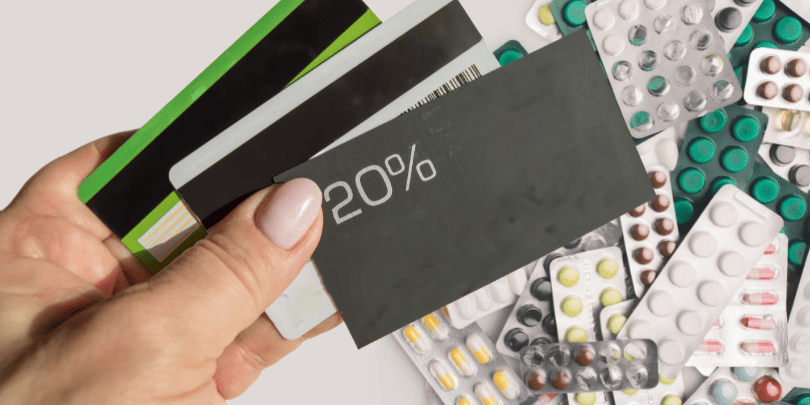 So, it is often cheaper to buy meds from discounters than by shelling out the co-pays under insurance drug coverage.
But I started my search for the best deals on meds years ago in the U.S. and found a surprising number of other tools and options. This article is the best summary I have seen on unconventional ways to save money on insulin with many also applying to other meds. I recommend reviewing it for some great ideas.
In fact, it covers virtually all of the different ways to save money on meds. Below are some of the best ones but I encourage you to look closely at all of them:
Discount Cards
One method is discount cards like one offered by Singlecare, the article's publisher. Another is GoodRX.com. These get you discounted pricing when you shop at U.S. pharmacies like Walgreens, CVS, etc.
NeedyMeds
Check out the NeedyMeds site for all kinds of savings possibilities.
Patient Assistance Programs and RXAssist
Most people do not know that drug manufacturers offer programs that provide some of the most expensive medications for free or for discounted co-pays. Before you reject the idea that you don't qualify for income or other obvious reasons, think again. Many of us do and can save thousands of dollars each year. You need to look at each program's application to determine whether you should apply. Often you qualify by having a prescribing U.S. physician, a U.S. address and the level of social security income you live on. And those with health insurance are also often eligible.
Here are a few pharmas that offer these programs and there is almost always a program for every expensive medication you need. Finding the right PAP is simple – Just google: "who makes + the name of the medicine" to find its manufacturer then google the 'Manufacturer Name + Patient Assistance' to get a link to their PAP
Here are a few links to such programs:
Fantastic PAP Resource: RxAssist is a comprehensive database of Patient Assistance Programs with resources on how to access them.
Get a U.S. Primary Care Physician
This tactic is essential to take advantage of meds discounts in the U.S. and in participating in PAP programs. A Primary Care Physician, or PCP, will get your scripts to the U.S. pharmacy you use and/or help you apply and use the PAPs. In the case of insulin, they usually also need to be willing to take receipt of your quarterly shipment on your behalf.
Actually, Medicare Advantage plans recommend you designate a PCP doctor whose services should be covered by the plan. If you don't have Medicare, ask one of your former U.S. doctors – or find a new one who is open to helping you. Offer to pay them the amount of an insurance co-pay once or twice a year to do a check-up and review your blood tests do they know the meds they are helping you get through the PAP are appropriate.
I just came back from a trip to my hometown where I had pre-arranged a visit to my doc who I paid  $150, the equivalent of a U.S. insurance copay, to review the (FREE IESS) labs that I sent her in advance. While I was with her she submitted my 180-day prescriptions with refills to healthwarehouse.com and submit paperwork to several PAPs while I was in her office. I try to have this meeting once a year. I save the cost of that visit many times over with savings on meds purchased with big discounts in the U.S. And because I am covered under Medicare Part B as of July, I will pay only a small doctor visit copay instead of the negotiated $150 cash fee.
And perhaps you don't even need to visit the US! Many docs with or without Medicare coverage offer virtual Teladoc appointments so you may not need to travel to the U.S. at all. You can fax over your periodic test results and request their cooperation in obtaining scripts and meds by videoconference.
Another tip: Find out the names of your doctor's office staff, be super sympathetic and friendly when you call, and bring or send something nice like flowers or pastries once in a while. This is the right thing to do and a great way to ensure their help with inevitable paperwork and delivery snafus. You are asking them to do things for you that are outside their normal workflow. So, reward them a little for it. You should find it's still very cost-effective.
Supplements
One word: Amazon.com has unbeatable pricing, convenience and selection. Buying supplements in Ecuador can be a monumental waste of money by comparison.
Transport Options – Getting Meds Back to Ecuador
So, you ask: "Rick, this all sounds great. But if I don't go to the U.S. to pick up my meds, how do I get them to Cuenca?" The answer requires a bit of research and maybe a bit of experimentation to find your preferred method. The short answer is to ask a friend or acquaintance to bring the meds and supplements in their suitcase when they come to Ecuador. Or you can ask another expat for a recommendation of an individual or company that transports items into Ecuador for a charge.
Such couriers know the ropes on how to navigate Ecuadorian customs and will tell you how they want to work with you if you give them your specific requests. Many have U.S. addresses where you can have your purchases sent by online pharmacies and retailers where they are kept safe, awaiting their courier's next trip to Cuenca.
Some will even keep insulin refrigerated or at least chilled for you throughout the process. Check out Facebook groups like Ecuador Mule Forum, Ecuador Free Muling and join Mule Review: Ecuador Private Mule, Courier Service & Client – Reviews Only
Expats commonly use these services for other items like phones, TV's, and even food items. And transporting meds and supplements should not cost a lot because these items are generally small and lightweight.
Is this an extra step that requires a bit of work on your part? Of course, but we are talking about saving potentially thousands of dollars per year. And once you find your favorite couriers, you can generally end the search and move into repeat mode.
Final Words
You do not have to pay as much as you think for meds and supplements because you have access to sources in at least 2 countries, Ecuador and the U.S. Some of your most expensive meds may even be free or almost free and it is worth exploring some different sources before you continue paying what you pay now.
If you follow the checklist below, you could end up saving thousands of dollars a year. It will make me very happy if you do. Because, if nothing else, you deserve it. And because big pharma already takes too much of our money!
Summary – Saving $$ on Medications Checklist
Research all priced (and FREE) meds options in this article and look closely at U.S. sources, including U.S. retail, your U.S. private insurance, Medicare, Medicare Advantage as well as Ecuador Retail and Ecuador Insurance. I love amazon.com for regular supplements.
Decide which meds and supplements to buy locally and which to bring in.
Weigh your costs for things like your time to make endless local pharmacy trips vs courier charges
If you are an IESS subscriber and require regular blood tests to obtain prescriptions from a U.S. doc, book an appointment with an IESS Family Medicine doctor or General Medicine doctor and get them to prescribe a free blood test to show to your U.S. doc so they can prescribe for you at a U.S. pharmacy. You can get an IESS blood panel once a quarter and won't pay extra for the tests – there is no need to review the results with the IESS doc. If you don't subscribe to IESS, visit your Cuenca private doctor and get them to prescribe a blood test at a private lab. That approach is still much cheaper than getting tests in the U.S. even under insurance.
Get a U.S. Primary Care Physician. For one thing, a PCP is recommended under Medicare. And your PCP will need to review your blood tests at least annually to prescribe 180 days for your regular meds with refills through a pharmacy or PAP. Visit them on your U.S. trips or by Teladoc.
Identify a reliable individual or company who can receive and store your meds in the U.S. that you ship from an online pharmacy there and then courier them to you in Cuenca.
Use the money you save to take a trip to the Galapagos, Spain, or even back to the US.
* General Medication Disclaimer
There are laws and regulations about bringing medicine in from outside of Ecuador. I do not know them nor have I studied them. I encourage you to do so if you want to. But I expect you will find that they are not clear, nor carefully enforced just like many Ecuadorian laws and regulations. And you will still be faced with the same question about how to maintain a lower cost of living. My personal experience is that neither I, nor my friends, have ever experienced any intercession by Ecuadorian officials in bringing personal use meds and supplements into Ecuador. Your experience may differ. Please do your own research and make your own decision.
** Other Online Sources
I have used Walmart both online and at physical locations which offer prices resulting from brutal negotiations with manufacturers which have produced a long list of commonly prescribed drugs priced at just $4 per month and lower meds costs generally. Some examples include several much cheaper versions of insulin including older style vial insulin and the newer ReliOn Brand produced through a joint venture with Novo Nordisk that makes Novolog, (NovoRapid, the Ecuador equivalent) and Levemir.
Big savings opportunity for diabetic patients: Save 4-6 times the US and Ecuador cost of glucose testing supplies by using Walmart's ReliOn Prime or ReliOn Premier brand meters and test strips. 100 strips for just $17.88 at the time of publishing.
One downside to using Walmart's online pharmacy is that it does not seem to show pricing for meds until you place an order – unless those meds are on the $4 list. That means you have to call for pricing to know the cost before placing your order.
One very new meds source which I have not used is Cost Plus Drugs launched with backing by billionaire Mark Cuban. Their very low prices include their product cost plus a standard low mark-up for the company and a standard fee to a distribution partner. Also, Amazon has jumped into the online pharmacy game and is probably worth a look. As I mentioned, Amazon is my go-to for daily supplements like Vitamin E, Fish Oil, Glucosamine, Niacin etc. I save hundreds of dollars each year compared to buying locally.
Have we missed your favorite tip for saving on medications here in Ecuador? We'd love to hear it in the comments below.