Editor's Note: 
This is the first contribution by Alicia Erickson. Alicia provides an abundance of practical, first-hand information in this article through her many years of living in Cuenca & her career as a nurse in the US. We're very grateful for Alicia's contribution and we're looking forward to seeing more practical, informative articles in the future. 
While most expats maintain an active lifestyle, the realities of chronic illness and aging can be unavoidable. After all, someone turning 65 years old today has a 70% chance of needing some type of long-term care within their lifetime.
Needs for assistance can range greatly from a daily check-in to total care dependence. Besides moving to the Ecuadorian valley of longevity, Vilcabamba, you have numerous closer options within Cuenca.
This article provides a glimpse into the differences in care between Cuenca (and Ecuador) and the United States. We also provide some guidance on costs. Spoiler – it's going to be a lot cheaper in Ecuador.
Availability of Care
Ecuador has an extremely young population. The recent census by the Instituto Nacional de Estadística y Censos documented that 50% of the population was under age 25. People 65 and older only accounted for a mere 6.5% of the population.
This, combined with a traditional preference for caring for family members at home, makes options for long-term care more limited than perhaps you're used to.
In Ecuador, older people can age in place or get residential care at affordable rates. Let's look at both of these options.
Aging in Place ($425 – $1800 + Monthly Expenses)
"There's no place like home."
Aging in place is receiving needed services at home. This can be as simple as having a responsible friend check in with you every morning or as complex as 24-hour care.
The various medical and other costs associated with aging in place must be added to normal expenditures. Costs like rent, internet, electricity, water, and insurance will all remain the same.
Full time carer
A full-time employee can be hired for an additional $425 a month – although the true cost will be a little higher due to various contributions required under Ecuador's labor laws.
Part time carer & service providers
Smaller amounts of assistance will cost less. Hiring someone to help with cleaning, laundry, and meal prep is common and affordable. Two meals can be delivered at lunch for about $210 dollars a month. The second meal can be easily reheated for dinner. Half-day cleaning twice a week costs $80 a month. Nurses are paid much less in Ecuador and can be hired for about $20 per shift. These prices make it much more affordable than in the United States or Canada.
Medical equipment can be purchased for the home. Electric hospital beds will run about $1500 while quality shower bars are $35.
Potential caregiver strategies
As care needs increase, a spouse might contract a nurse to assist with bathing, dressing and ambulating in the morning. This prevents caregiver burnout and allows them to focus on their relationship. If needed, aging in place can encompass skilled nursing and around-the-clock care.
Some may find it easier to use a service for contracting nurses, as this eliminates the need for evaluating skills and training. Most people can probably get by with two nursing shifts even with significant health problems. People requiring 24-hour care should plan on $60 a day, or $1800 per month.
Benefits of Aging in Place
Benefits of aging in place include:
Increased comfort
Privacy
Autonomy
Affordability
Many people feel more comfortable in familiar surroundings. Privacy is ensured at home. Residential facilities may have roommates or unwanted interruptions. Freedom of schedule and independence are important to some people. You can host an event and be as loud as you want to be!
Compared to the US
Aging in place can be slightly more expensive than residential care in Ecuador; however, it remains much cheaper and more financially possible than similar care in the United States.
While Medicaid, Medicare, and long-term care insurance cover most of the costs of skilled nursing care in the United States, people wanting to age in place need to provide their own funding. Months of in-home care can quickly deplete an individual's life savings in the United States.
Challenges of Aging in Place
Some challenges of aging in place include:
Finding suitable housing
Coordination of care
Feelings of isolation
Suitable housing
Accessible rental units with zero-step entrances, ramps, or elevators can be few and far between. Wide doors, spacious hallways and bathrooms for wheelchairs and walkers can also be very difficult to find. Grab bars and non-slip flooring might need to be added to rental units.
Coordination of care
Another challenge is coordinating care. People with cognitive deficits and limited Spanish might find scheduling assistance difficult. Expats might have issues with seemingly easy tasks such as making their monthly payments because electronic banking is limited in Ecuador.
Feelings of isolation
Lastly, expats living alone are at risk for isolation. Many times, friends can move to a different neighborhood or even leave Ecuador. With family far away, it is important that expats have a trusted network of people that they can call on both for socialization and assistance.
Residential Care Home ($600- $1200)
A residential care home provides round-the-clock care. As of 2022, monthly residential costs in Cuenca, Ecuador range from $600- $1200 a month. In Ecuador, these facilities encompass care interventions similar to skilled nursing facilities. These centers also provide daycare, hospice and palliative care when needed.
Ecuadorian residential homes resemble a homelike setting with a smaller number of residents. Converted houses and haciendas often house just 20-30 residents. In comparison, a single floor of a nursing facility in the United States will have the same number of residents.
Residential care in Ecuador includes:
5 Meals per day
Laundry
Housekeeping
Activities of daily living (eating, bathing, mobility)
Medication management
Nursing care
Conditioning
Cognitive programs
Activities
Socialization
On site medical services include access to:
Dieticians
Physical therapists
Occupational therapists
Social workers
Psychologists
Nursing staff
Physicians
Often, the medical providers are both directors and owners of the facility.
Benefits of Residential Care
There are many benefits of residential care in Ecuador. Some of these include:
Access to a wide spectrum of services
Flexibility to support advancing needs
Organization of services provided by the facility
Affordability
Overall, this can be a more convenient option as all of the organization is performed by the facility. For example, the administrators are responsible for hiring, training, and monitoring staff. They also provide in-house physicians that regularly attend to residents.
Compared to the US
The nursing staff to resident ratio is better than long-term care facilities in the United States. Thus, staff are better able to provide high-level care if needs increase. The costs of residential care in Ecuador are just a fraction of similar care in many other countries.
Residential Care Challenges
Residential care comes with some challenges too.
These challenges include:
Loss of autonomy
Language barriers
Distance from extended family
Cultural differences
Loss of autonomy
Perhaps the biggest downside to residential care is the loss of personal autonomy. For example, the staffing and quality of care are controlled by the administration, and daily schedules are set by the staff in order to accommodate all residents.
Language barriers
Whilst this will vary by facility, the English spoken by staff can be limited. They try their best but be prepared for some ongoing games of charades. Fewer English-speaking residents mean less socialization and non-English speaking staff can limit quality interactions.
Cultural differences
Expats already living in Cuenca are familiar with cultural differences. Some basic rice might be served with meals more than potatoes. Switching the TV from a soccer game to American football could cause a small, but significant riot.
Administrators at residential homes I contacted seemed very willing to accommodate gringos, but these differences may still be a significant obstacle.
Cuenca Residential Care Homes List
I contacted numerous assisted living homes for the information provided in this article. This list is intended to act as a starting point for expats, but is NOT an endorsement as I don't have first-hand experience with any of them. And yes, we obtained permission for all photos used in this article.
All the facilities below provide integrative, comprehensive care for the geriatric population. Costs can vary based on the level of care required by the resident with the higher price quote reflecting total assistance with activities of daily living.
Prices do not include medications, incontinence pads and other specialty supplies. Insurance is needed for specialty appointments, medications, and hospitalizations. Residents pay for their own insurance premiums.
Centro Gerontológico Nueva Esperanza
Address
Calle de la Verbena 4-20 y E. Moscosos
Phone
(07) 4082032
Costs
Double and triple rooms – $750
Private room – $1000
Fundación Gerontolica Plenitud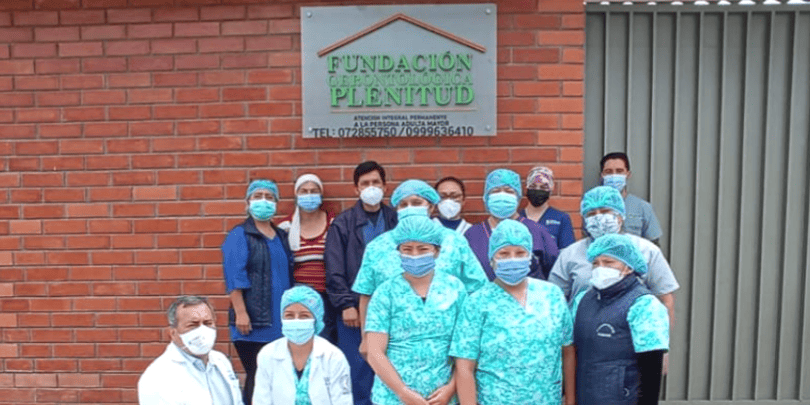 Address
Jose Antonio Cardoso entre Ricardo Marquez
Phone
0999636410
Costs
Double rooms – $600
Private room – $750
Centro Geriátrico "Casa del Abuelo"
Address
Calle el Empalme y Cantón Buena Fé
Phone
0993533041
Costs
Double room – $600 to $700
Private room – $,1100 to $1,200
Centro Geriátrico "Los Jardines"
Address
Fray Gaspar de Carvajal y del retorno 5-93
Phone
0984899136
Costs
Double room – $950
Private room – $1,200
Residencia Geriátrica "San Andrѐs"
Address
Calle sin retorno s/n y Culebrillas
Phone
(07) 2869955 & 0987713131
Costs
Centro Geriátrico "Azalea"
Address
Dolores Vintimilla y Agustín Cueva
Phone
(07)2887565 & 0995435671
Costs
Private rooms only – $950 to $1,050
Final words on assisted living in Cuenca
Ecuadorians with family abroad, single retirees, expats that come with an aging parent, and families that simply can't provide 24/7 care at home can find affordable options for assistance here in Cuenca, Ecuador.
Just note that Ecuador's assisted living options are less varied than what is available in the United States and other developed nations. While traditionally Ecuadorians provide care at home, aging in place and residential care homes are available for those needing long-term care.
If you have direct experience with any of the residential care homes we've included, do feel free to provide your feedback in the comments below so others can benefit from your experience.
Image permissions
Permissions were received from care facilities to use their photos on 25 March 2022.